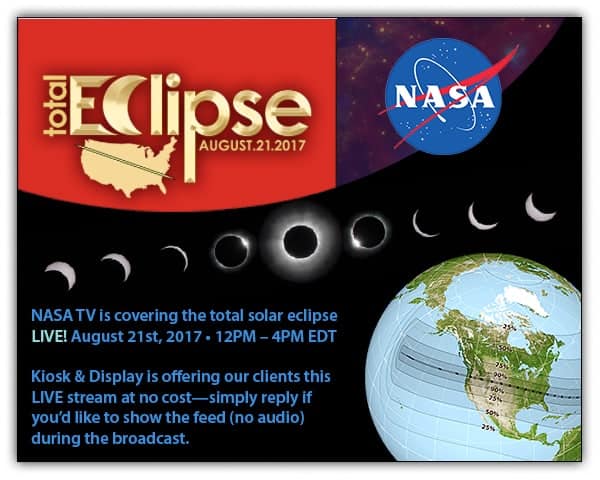 This Monday when North America will experience a total solar eclipse that will darken skies all the way from Oregon to South Carolina, Kiosk and Display will provide safe viewing and live coverage via NASA TV on their digital signage network from 12pm-4pm EST.
"It is not every day that we see the moon appear to completely cover the sun in the sky." said Sharon Klocek-Ibbotson, content leader at Kiosk & Display.  "We wanted to give our customers options to safely share in the excitement and view the eclipse even if you are stuck inside or it is cloudy outside. With so many of our customers set to experience 90-100% of the eclipse, such as our Headquarters in Atlanta GA, it was something we just had to do."
It also happens that one of Kiosk & Display's content developers is a huge NASA fan. Tom Hess is located in the Kiosk & Display Rochester, NY – Content Office. "Tom always keeps us tuned into what is happening with NASA, and NASA TV is an incredible resource."
Live data and event feeds like NASA TV are growing part of Kiosk & Display's made to engage brand and their constant effort to build engagement for their customers and their digital screens.
NASA TV Eclipse Feed Shines Through
"Our branches really appreciated being able to watch the eclipse on our Kiosk & Display screens." said, Andrea Brown, Corporate Communications Specialist at First Federal Bank. "I just went and looked at the NASA TV Feed myself – it's cloudy here."
Eclipse 2017 was a big event for the content team at Kiosk & Display.  "34% of our customers ran our offering of the NASA TV Feed so staff could participate in the fun – no matter the weather or need to be on duty," said Sharon Klocek-Ibbotson from Kiosk & Display.  "We were so glad we could make this option available for our customers. We love how moments like this build engagement."
Jon VanderMeer is the owner, Chief Experience Officer and President Business Development at Kiosk & Display Company.
Kiosk & Display is a full-service interactive digital signage agency – made to engage.