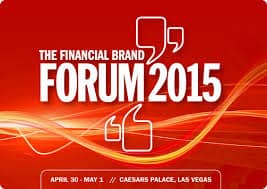 Don't miss The Financial Brand Forum 2015 — two full days jam-packed with the latest ideas, insights and innovations in retail banking and financial marketing.
The Financial Brand Forum has quickly become the banking industry's must-attend event. Join hundreds of leaders from financial institutions around the world for two straight days of networking and strategic insights.
The Forum 2015 is specifically engineered to help you tackle your biggest branding, marketing and retail challenges, with dozens of strategy sessions and interactive workshops that will build your brand and your bottom line. Highlights include:
All-Star Agenda – Keynote address by banking visionary Josh Reich, founder of BBVA/Simple, followed by sessions featuring Wells Fargo, PNC, US Bank, Navy Federal, Facebook, Nintendo, futurist Brett King and many more!
Zappos Culture Tour – This rare, behind-the-scenes glimpse into the Zappos family culture will show you what it takes to manage a world-class brand. Includes a 60-minute tour and a 60-minute Q&A with a Zappos culture expert.
Three Makeovers (Brand, Branch + Website) – Three financial institutions will have brand new concepts revealed to them for the first time… live on stage.
FORUMx – The Forum 2015 will feature it's own version of TEDx — short, high-level, strategic presentations from notable experts and thought leaders on the shifts financial institutions need to make to serve tomorrow's consumers.
Look for Kiosk & Display in the Branch Lab of the Future. Put your hands on exciting bank & credit union products including touch screen engagement stations, mobile event apps, hyper-local digital signage, employee HR signage and introducing iBeacons by K&D.
Speaking of iBeacons, your phone may pop up a message when near Caesars bar indicating Sharon is nearby and would like to buy you a drink and explain how iBeacon technology can create engagement inside and outside your branch.