Know anyone who wants to communicate better, communicate clearly, communicate faster? Digital signage is the solution.
Refer an opportunity to Kiosk & Display and become a strategic partner. Membership has its privileges:
• Peace of mind that your opportunity will be serviced by a full-service digital signage partner, not a vendor!
• Cash commissions when your project is signed!
• Priority invitations to conference dinners!
• To get started, set an appointment with Jon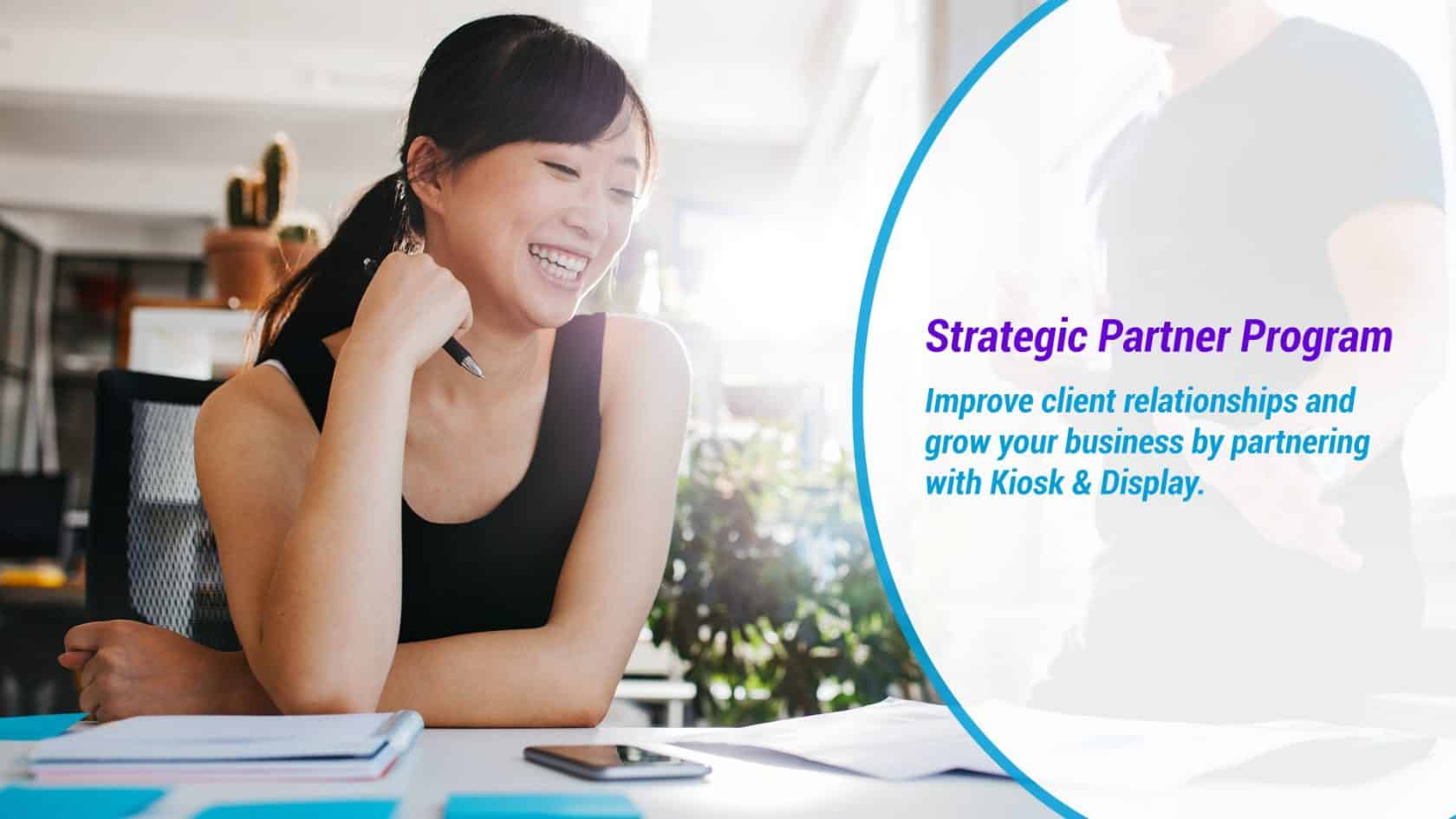 The Kiosk & Display team has completed dozens of successful projects thanks to our strategic partners listed below. We encourage you to contact them directly or

email

Jon or call 404-622-2303 for a personal introduction!
Agency
Acadia
Acadia, formerly Imagine Media Consulting, is a full-service social media marketing agency made up of a team of experts who help their partners build strong relationships online.
Hadjo Media
Hadjo Media is a full service video production company based in Atlanta, GA. Hadjo offers reliable production and post production services directly to producers, agencies and companies, worldwide.
M6 Marketing
M6 Marketing works with FIs to improve online checking account acquisition. Adapting from challenger banks' best practices, their ReImagine Checking updates website checking pages to present relevant benefits, simplify choices and stand up to competitive comparison.
MarketMatch
MarketMatch is an award-winning, full-service digital marketing firm specializing in growing community banks and credit unions with a holistic digital focus. Their Measurable Results strategy creates focus, momentum and results for clients backed with an ROI guarantee.
Sawyer Media Group
Sawyer Media Group is a full-service, creative marketing agency with the passion, skills, and innovation to help you grow. SMG knows you've done the hard work to build your business, now it's time to be proud of what you've built, and go all in! As your partner, they'll use their expertise to reach (and exceed) your business goals through brand development, website design, and marketing.
The Edge Agency
The Edge works with like-minded business professionals through a marketing partnership. Brand, design and marketing strategy.
White Deer Group
White Deer Group helps companies create, manage, and distribute their business knowledge. Whether it's an online knowledge base, help system, corporate intranet, or old-school manuals, they use world-class systems to increase accuracy, clarity, and user engagement. White Deer Group specializes in turning content chaos into beautiful order.
Software
CartFuze
Make your business immune to pandemics by developing business online with CartFuze. Service features include informational sites, complicated ecommerce sites, and business intelligence. Visit CartFuze.com to see what tools are necessary to grow business online.
Kadince
Kadince software helps financial institutions streamline the tracking and management of their community involvement efforts, CRA data, marketing compliance approvals, and customer complaints.
Culture
Nich Culture
Nich Culture assists world-class organizations to understand, define, articulate and promote exceptional work culture.
Hardware
NanoLumens
NanoLumens is a US-based LED solutions expert, providing an unmatched customer experience from concept to completion. By collaborating with their clients every step of the way, they enable the freedom to create unique display solutions.
Tellerex ATM Management
Tellerex provides ATM lifecycle management solutions, including unit refurbishment, parts repair, storage, recycling, & risk mitigation.
Design-Build
Florida Concepts, Inc.
Florida Concepts, Inc. assists financial institutions throughout the Southeast with designing and building better facilities. Their ability to integrate their team of professionals with your goals produces buildings that benefit both FCI clients and their customers.
Perry Construction Management
Perry Construction Management provides expert services to ensure construction projects are completed on time and on budget.
Let us help you communicate faster, clearer, better with digital signage! We're ready to discuss your next idea or project. Schedule a meeting and let's get started!