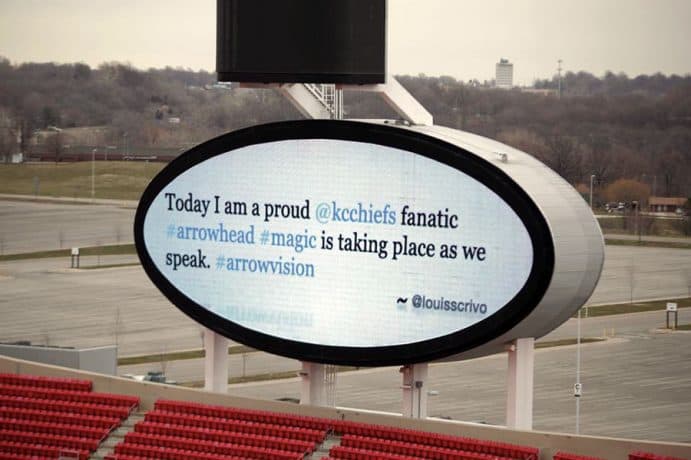 Many of our Kiosk & Display clients ask us to put a stream of social media content on their digital merchandising screens. We're happy to do so and we've mastered many configurations and applications of Facebook and Twitter. In the true spirit of transparency, it just seems the right thing to do. Plus, the coveted Millennials really gravitate to brands that bring conversations to life. Or bigger than life.
Speaking of bigger, check out this image from Arrowhead Stadium in Kansas City. The NFL KC Chiefs know how to do social media in a unique and engaging way…they put up selected tweets on their big video screen known as Arrowvision. Fans can get their tweets up on the big board and they love crafting creative messages to try and get them selected to be "in lights."
On a more normal 1:1 scale, the same incentive exists for the folks who come into your branches. They too, enjoy their fleeting moments of fame when they can get one of their posts in lights.
How can you make this happen? First, give us a call and we can put the wheels in motion to make it all work. Second, devise a contest or deploy some incentives to be awarded to the most creative posts that show the love to your organization. Social media is all about honest conversations and having shareable content. What better way to share conversations than to put them up…in lights?