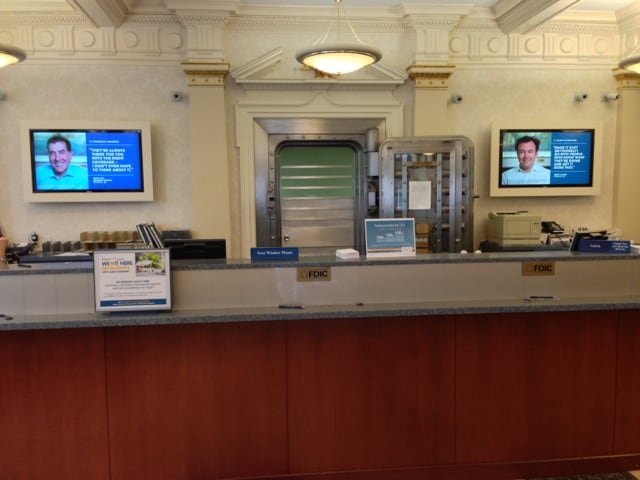 A recent install at one of our client's branches proved to be no ordinary walk in the park. The branch configuration was perfect for two digital merchandising screens flanking either side of the vault behind the teller line…two very visible locations. Perfect placement.
The not-so-perfect result was a color discrepancy between the two screens. One looked great…and the other went slightly green. If there had been just one screen in this location, the green tendency of the right side monitor probably would have gone unnoticed. But there they were, practically side-by-side and our install technicians weren't satisfied with leaving things "close enough" and they were on the case.
Well, five visits later, the problem was finally identified. The Cat5 receiver on the right was receiving slightly different voltage from its electrical wall outlet. The problem had nothing to do with K&D's equipment or installation…it was an internal wiring issue. Once identified, the problem was rectified and our very satisfied client had matching monitors.
K&D answered the call to go above and beyond to make a happy client. Would your current digital merchandising vendor deliver this best-in-class service? You'll have to make that call. But once you do, we'd like for you to call us. We'll always make sure people in your branches get your messages…and that they're the right color.