Headed out to the ABA Marketing Conference in San Antonio? Find your sea legs (or is that canal legs?) and join Kiosk & Display for 2-hour dinner canal cruise in the famed San Antonio Riverwalk district. We're meeting up at 7:30 for cocktails on Sunday 9/22 and then setting sail for a great dinner on the boat ride. At the time of this writing, only 1 place remains…so contact Jon VanderMeer ASAP to secure your spot.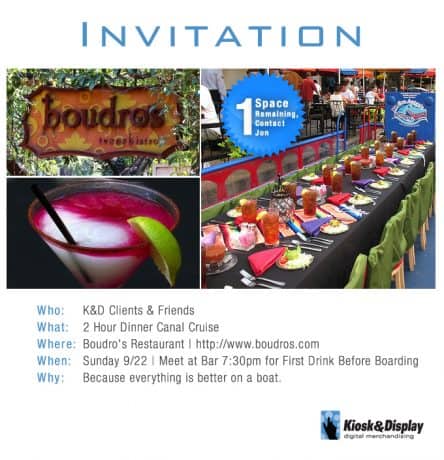 Don't despair if you miss out on the cruise, because back in the exhibit hall you'll enjoy a different feast when you cast your eyes on the new K&D 55″ digital merchandising Engagement Station. It combines the latest in K&D iPoster advancements with a digital screen that is guaranteed to engage and motivate your customers beyond the horizon. It's the perfect confluence of digital messaging and self-service product information gathering on one screen.
On hand to answer all of your digital merchandising questions will be Jon VanderMeer, founder, and Sharon Klocek-Ibbotson, Digital Merchandising Program Manager, with a combined 50+ years of digital messaging experience. See us at Booth 307.