In Vegas – it's Big, Bright and Bold. If you're headed to The Financial Brand Forum, make sure to visit the Kiosk & Display booth for some equally big ideas. We are an interactive digital signage agency – made to engage. We not only help clients with interactive and digital signage – strategy, installation and content – we help them make screens big, bright, bold and engaging.
Learn more at our booth in The Financial Brand Forum Exhibit Hall, or sign up for our exclusive off-site Las Vegas showroom event.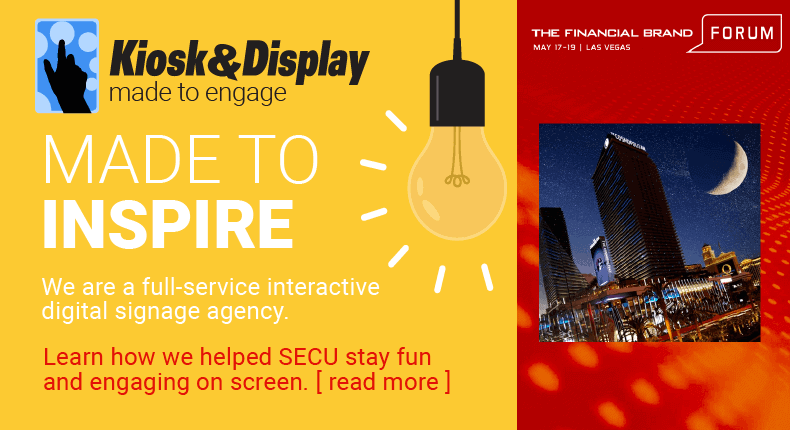 We've helped many financial institutions all over the USA, like SECU, Fidelity Bank, Mechanics Savings, We Florida Financial, and Pacific Continental Bank to find the right fit, price and solution by providing customized help.
We work to bring engagement to every sign, while keeping your content fresh and your budget intact.
Building a branch or doing a retrofit? Ask for our ideas on turning structural limitations into digital opportunities and creative product-driven menu options.
Sponsoring a local venue? Learn how to create an unforgettable experience.
"We love them. They always add something fun when they animate our ads."

– Senior Graphic Designer, SECU
"Thank you for all the work providing us the pros and cons for each technology we are considering."

– J. Marsili, VP & Marketing and Sales Director, Fidelity Bank
"I used to work with another system and this [Kiosk & Display] is so much easier to use. It's zip! Boom! Done! On to the next task." – R. Hawksley, Marketing Director, Mechanics Savings Bank
"Kiosk & Display saved us time and money by creating custom templates that fit our brand and needs perfectly." – J. Burns, Chief Marketing Officer, We Florida Financial.
"We are thrilled with Kiosk & Display – they got it right when others could not." – A. Delaney, Vice President, Marketing Director, Pacific Continental Bank
SaveSave
SaveSave
SaveSave