Michigan First Credit Union's long history is worth celebrating. Starting as a teacher's credit union in 1926, the institution was initially known as Detroit Teachers Credit Union. Organic growth, mergers, expanded services and loyal members have kept this institution thriving for 90 years.
When Michigan First doubled the size of its headquarters building in 2017, they decided it was the right time to reinvent their existing history wall as something more dynamic. Previously, the history display could only fit about two dozen pieces of content – hardly enough to mark multiple milestones over nearly a century of service.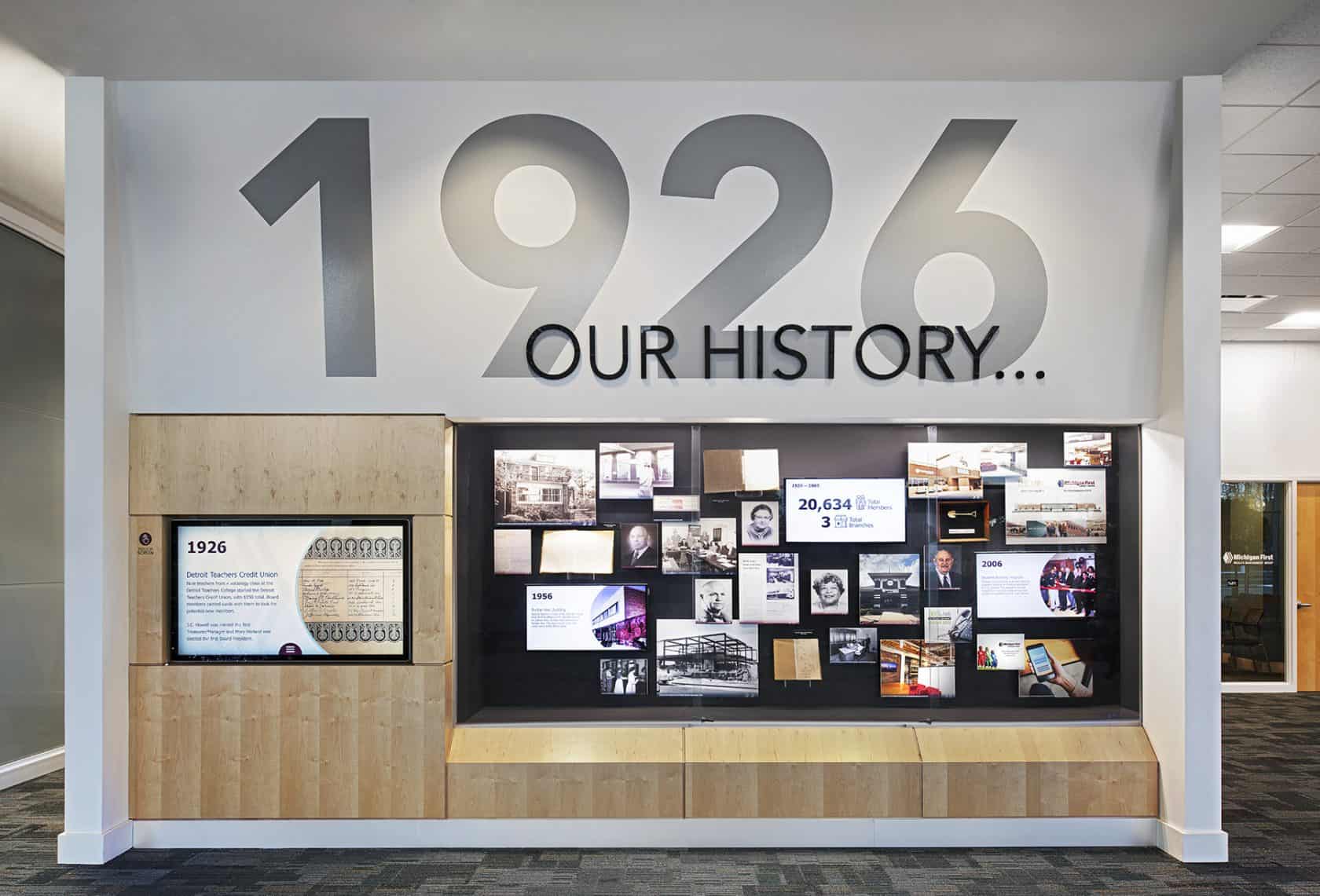 Steve Poole, Digital Marketing Manager at Michigan First Credit Union, planned the display to reflect the credit union's long, proud history of service to the educational community, greater Detroit, and the state. The history wall contains three digital displays, rotating a series of images that include historical documents, photos, credit union leaders, growth milestones, branch network expansion and other company highlights.
To the left of the history wall sits a 55-inch touch-screen display. Users can search for a particular event or let the display cycle through the decades and its 100+ pieces of content. Both the touch screen and the three digital displays allow Michigan First to expand their archive by adding new content quickly and easily.
Kiosk & Display Chief Experience Officer Jon VanderMeer proudly reflects on this project that added so much value to the Michigan First headquarters' grand opening. "So often credit unions forget about their history. In their effort to serve their members, important milestones can get lost due to turnover and retirement. A history display is an easy way for any institution to capture these events and share them with their community."
There's no question that the wall enriches Michigan First Credit Union's brand promise. With an identity steeped in history, the digital displays are a manageable way for the credit union to preserve and maintain its connection to its past – which happens to be an important part of its future.
Looking for ideas to preserve and share your past? Let us know!