Are you ready to get more ROI from your digital signage investment?
K&D's Chief Experience Officer Jon VanderMeer and Director, Content Strategy Sharon Klocek-Ibbotson presented three client success stories at NEFMA's Spring Conference. Jennifer Smith from Flagstar Bank and Katie Leineweber from SECU are using their digital screens before, during, and after hours to educate, engage and inform existing and potential customers, employees, and members. Watch the video below to see how they did it.
Flagstar Bank Small Business Spotlight Program (starts at 3:25)
Flagstar Bank believes that each branch's business development growth is a key factor to ensure success. Flagstar's digital screens are the basis for the Small Business Spotlight program, which features local businesses.
Prior to the program, branches used makeshift business centers with card tables, tear-ones, and local advertisements. Smith recognized that digital signage could shift the DIY ads to be on-brand and a tool to form meaningful partnerships.
When branch managers identify a business to spotlight, they enter information into a template. The completed template is queued for approval by a Flagstar regional manager.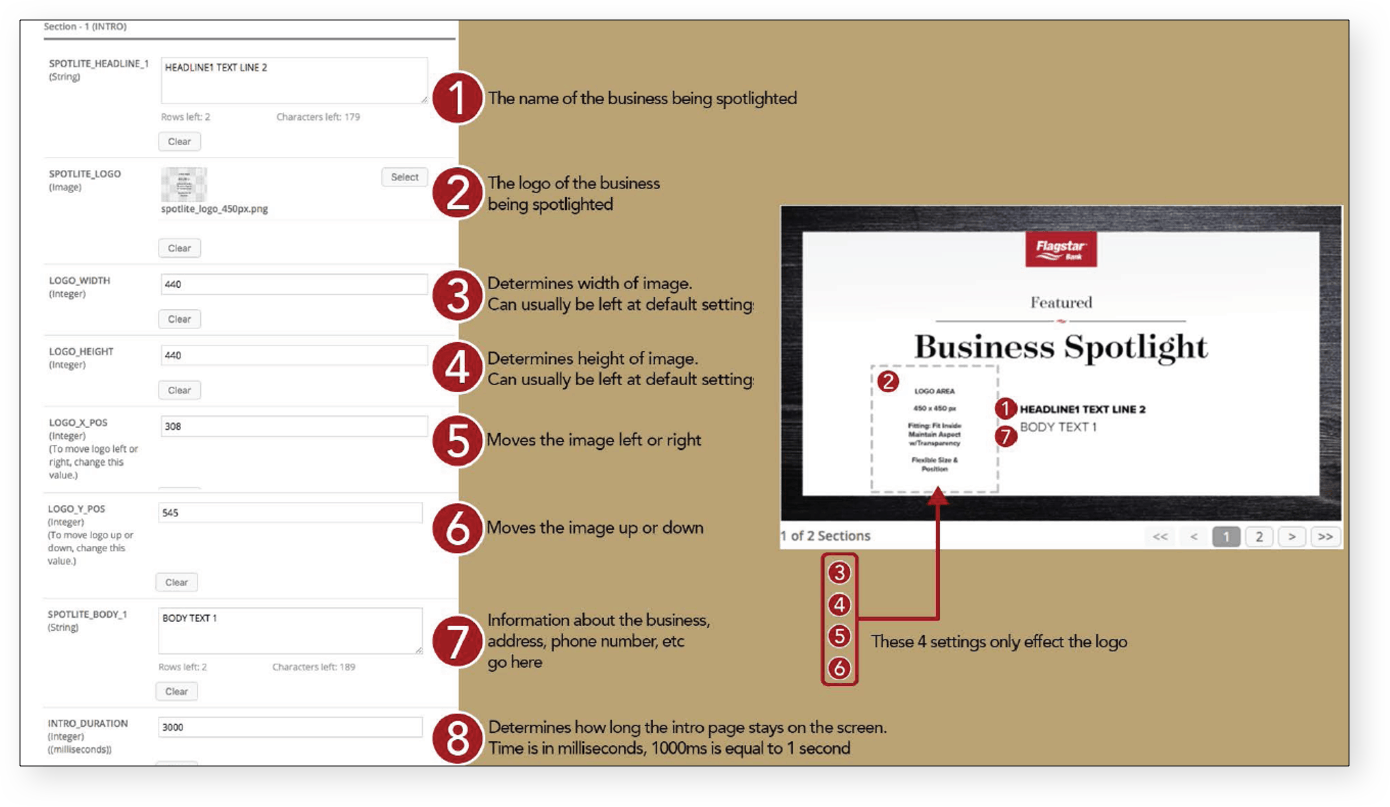 Smith says, "The program allows branch managers to open a conversation" with existing and potential clients, ideal for relationship building. She adds that "Kiosk & Display did a lot of the heavy lifting" by training 150+ branch managers on the Small Business Spotlight template. The template takes each branch manager less than two minutes to create.
Flagstar Bank Employee Town Hall (starts at 14:00)
Flagstar Bank knows that a great culture is as important as great strategy. With a large and diverse geographic footprint that spans five states and three time zones, ensuring that all employees receive the same message from bank leadership is a critical component in its winning culture.
Flagstar uses its digital screens before branch opening hours to present its monthly Employee Town Hall meetings. The meetings last 30 minutes and cover important topics such as recognizing top performers, covering key initiatives, upcoming events, process reminders, and fraud spotting tips.
As the company grows, it has become increasingly difficult to build and maintain a sense of community. Although branch employees can easily feel disconnected from headquarters, the meetings help to bring everyone on same page. Employees can see the leadership team – and the person behind the email – even if they are far away. The meetings allow management to deliver more information faster and more effectively.
Building Employee Culture with Digital Signage (starts at 22:30)
SECU is using employee education to deepen its culture. SECU believes that employees are the defining factor in its success, and in turn, their members' success.
The digital screens in branches and back office areas are part of a larger effort to align the employee journey with the member journey. Knowing that the credit union's front line is the face of the brand, giving employees the tools to improve their knowledge helps give them everything they need to deliver on SECU's brand promise to its members.
SECU uses its digital screens after hours for employee trivia. Employees can text their answer, which helps the Learning and Development team identify knowledge gaps. Correct trivia answers are revealed weekly at branch and department huddles.
Leineweber says that adding the texting component gamifies product knowledge and has supported quick adoption and usage among employees. "Engagement rates have been extraordinarily high," says Leineweber, and feedback has been 100% positive. SECU is adding member-facing content to complement the employee training topics.
Ready to improve your digital signage ROI? Let us show you how digital signage can turn your ideas into reality and help you reach your goals. Schedule a meeting or call us at 800-724-8947 to get started.