Digital safety signage is an important part of any employer's safety culture. Different from the OSHA required danger signs, warning signs, and caution signs, incorporating safety messages into the workplace with digital signage is an easy and effective way to share messages and safety standards with your employees. Digital signage complements your one-dimensional required safety signs with visually-engaging messages that include movement, sound (if you choose), and unlimited opportunities to show your company's commitment to a safe and secure workplace.
Digital Signage in Manufacturing and Industrial Environments
Manufacturing facilities present a unique communication challenge because floor workers don't sit at a desk reading email. Yet, to remain engaged and valuable team members these deskless workers still need to keep up with productivity metrics, benefits information, and safety statistics.
The benefit of digital screens in manufacturing settings is that they provide visual reminders. For example, while your plastic sign tells workers they are in a hard hat required area, a digital safety sign goes one step further and tells workers:
the number of days since a hard hat accident;
how and how often to inspect their hat for cracks, wear and tear;
why it is a hard hat area – for example, due to overhead material transport.
Off the production floor, digital manufacturing safety signage is placed in break areas, near building entrances and exits, and in locker rooms. In these settings, employers often mix safety messages with benefits enrollment deadlines, service anniversaries, and messages that recognize top performers.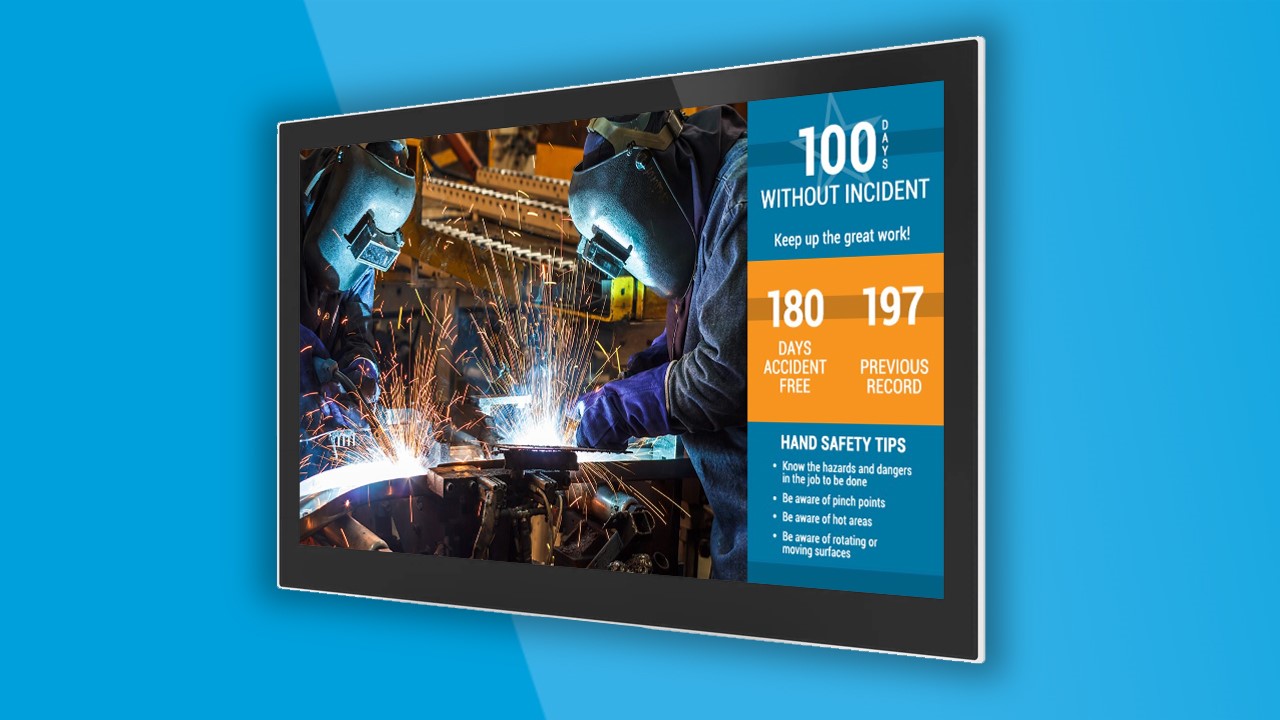 Reaching Employees Across Shifts and Locations with Digital Signage
Operations Managers have an extra challenge to reach workers when they are spread out across locations that are hundreds of miles apart. For businesses that employ round-the-clock shift workers, the 2nd and 3rd shifts often feel left out of celebrations and events that are planned around day shift schedules.
Employee digital signage provides managers with another tool to communicate effectively with everyone. Because content can be scheduled in advance, employers can create messages specific to each shift, recognizing employees that might otherwise be left out.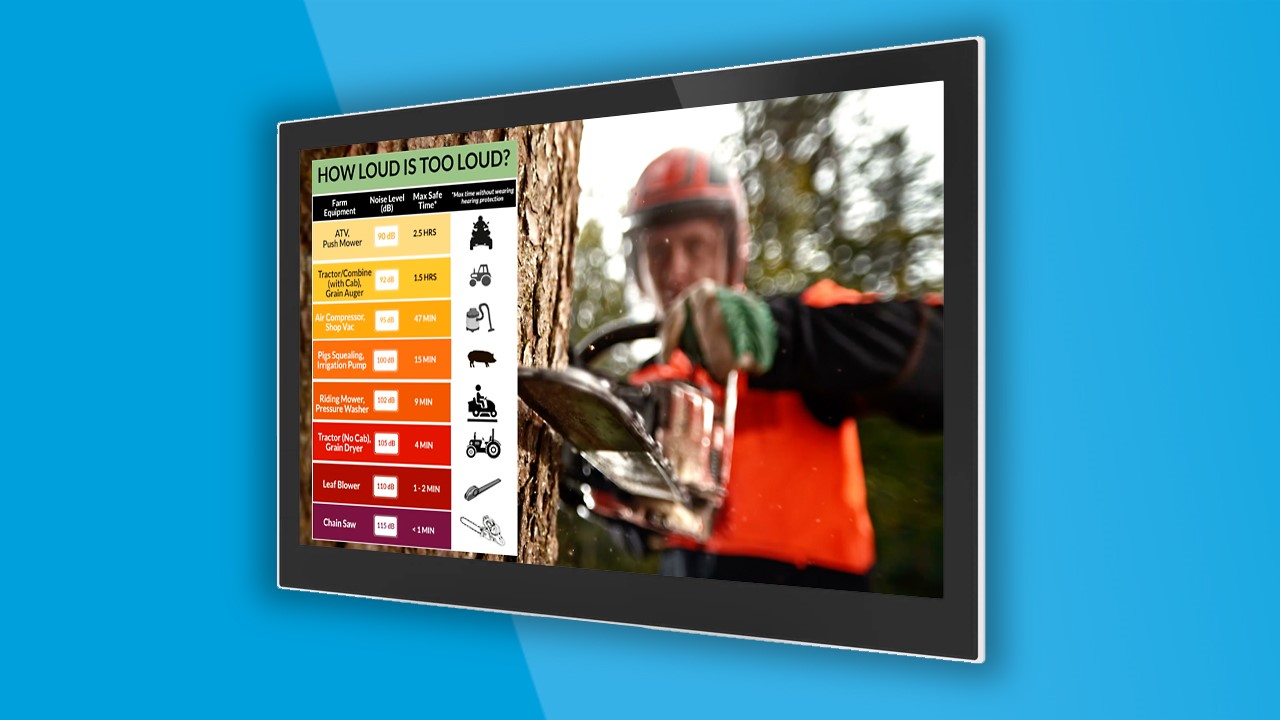 What Should You Display on Digital Signs?
We encourage our clients to create messages that are both meaningful to employees and relevant to safety standards in their industry. Employees will quickly lose interest in generic content, so it's important to stay in tune with what matters to them. For example:
Acknowledging shift safety champions
Required training reminders
Recognizing employees for making cost-saving, productivity-enhancing, or safety improvement suggestions
Job openings
Educational and volunteer opportunities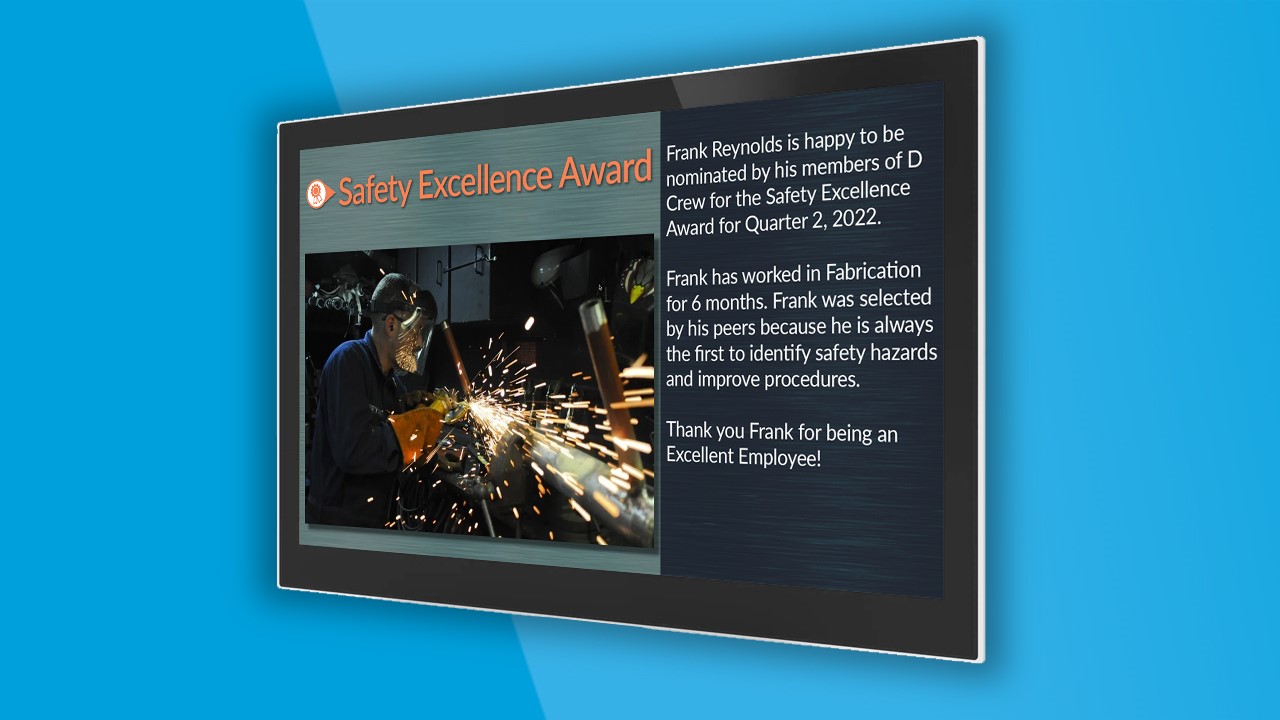 Customized, visually-driven content can inform and inspire workers, build a sense of community, and connect employees who work in different departments or in different facilities. Animated messages are more memorable than email, text, or app notifications. Using images unique to your business or industry makes messages even more relatable.
Kiosk & Display makes the process of creating content easy by onboarding new clients with a content credit allowance. Let our experienced Content Team create your first digital signage loop with a balanced mix of messages that help you reach your goals. You don't have to be a graphic design whiz to keep your content fresh. We provide content templates that can be updated and live in minutes.
Digital Signage and Safety Audits
Safety audits improve workforce safety and productivity. They also improve employee morale and contribute to better decision making by keeping emphasis on reducing incidents. Safety digital signage visibly demonstrates to your employees that you care about maintaining a safe workplace.
Use digital signage to:
Share your latest safety audit findings
Commend workers or teams who go above and beyond to improve safety
Call attention to steps taken to rectify safety audit deficiencies
Display company safety metrics / safety goals achieved
Communicate routine reminders of safety protocols
OSHA estimates that businesses see an average return of $4 to $6 for every dollar invested into their workplace safety programs. Our clients use digital screens to share all aspects of their company's safety program so employees know their role in contributing to a safe workplace. Their digital signage messages announce new (and remind of existing) safety policies and procedures, and recognize employees who are safety champions.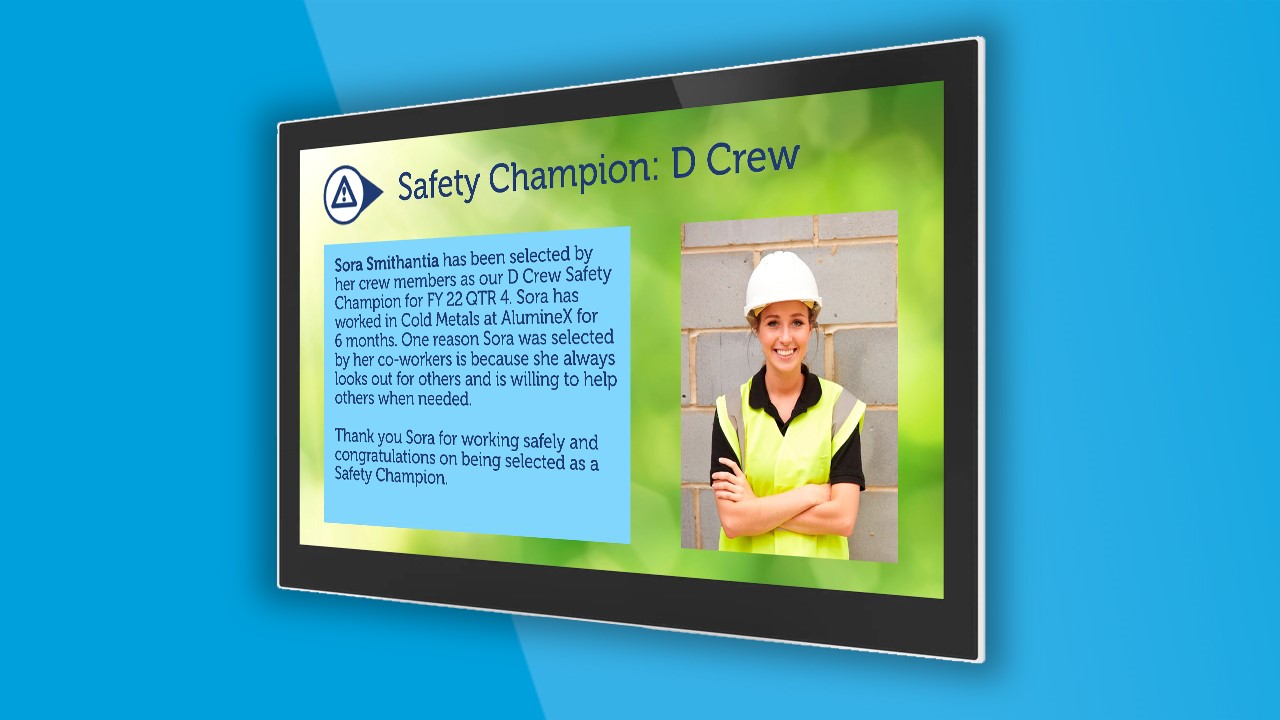 Update Digital Safety Signs Instantly
Another advantage of digital signs is that they can be updated instantly, and as-needed. No more printing and delivering paper posters throughout the company. Did you know that research shows most people remember a message once they see it 7 to 10 times? For that reason, we recommend leaving messages in rotation for one week or longer. This ensures employees across all shifts and schedules have an opportunity to see the content. Future content can be created and scheduled in advance. For businesses with multiple locations, content managers can create a portion of the content centrally. Then, they can appoint local managers to create, schedule and deploy content specific to each location. All content can be queued for approval before going live.
Digital signage helps the plant manager, communications specialist, or human resources manager communicate safety protocols, KPIs, team or company goals, benefits reminders, and recognize top performers. Our manufacturing clients generally appoint someone from a safety team at each location to contribute a portion of the digital screen content. Our most successful clients deploy corporate content from headquarters, and leave room in the content loop for site-specific messages that are created locally. Updating digital signage messages takes less than five minutes and does not require graphic design skills.
Conclusion
Employees ignore flyers and bulletin boards, so how do you reach deskless floor workers who don't have access to email? Digital safety signage for the manufacturing industry elevates traditional communication such as flyers and emails. It also provides a modern, unique way to engage employees across all of your departments and locations.
Kiosk & Display has helped hundreds of businesses communicate better with a full-service approach to digital signage. A successful digital signage network requires proper site planning, accurate installation, engaging content, and ongoing support. Let us show you how digital signage can provide an unprecedented level of engagement across all areas of your organization. Custom, visually-driven content contributes to a safer workplace, inspires your staff, builds community, and connects workers with upper management. Curious to see it in action? Meet with us to learn more.