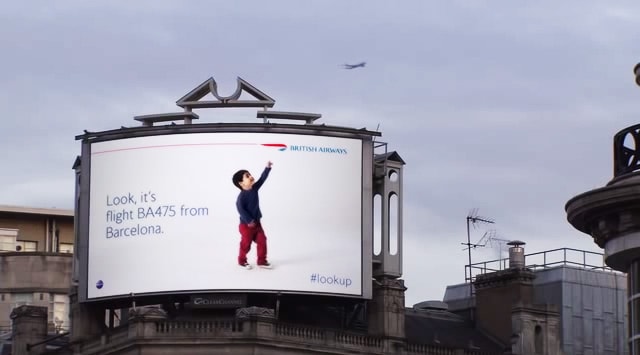 You know that the entire staff at Kiosk & Display is always on the lookout to bring you examples of extraordinary digital signage applications and executions and we've got a cool one for you this time.
Check out this British Airways billboard that tracks airplanes overhead. A video ad in London's Piccadilly Circus features a young boy pointing to the sky. If you follow the path of his finger, you'll notice that it's aimed at an actual plane above. The billboard updates in real time, displaying the flight's number and origin. (In the video, above, it's BA475 from Barcelona.)
The billboard uses custom-built surveillance technology to pull off the feat. Abigail Comber, British Airways' head of marketing, told the publication that it was a first for both the airline and UK advertising. BA's experiment with interactive advertisement isn't a new idea. A recent ad in Spain uses a digital signage billboard for an anti-child abuse organization and used lenticular printing to show different messages to kids and adults. Another advertisement in London last year let passers-by use their phones to drag away a man verbally abusing a woman in a video billboard.
Digital signage is everywhere these days. Shouldn't it be in your branches as well?
See it here:
https://www.youtube.com/watch?v=GtJx_pZjvzc