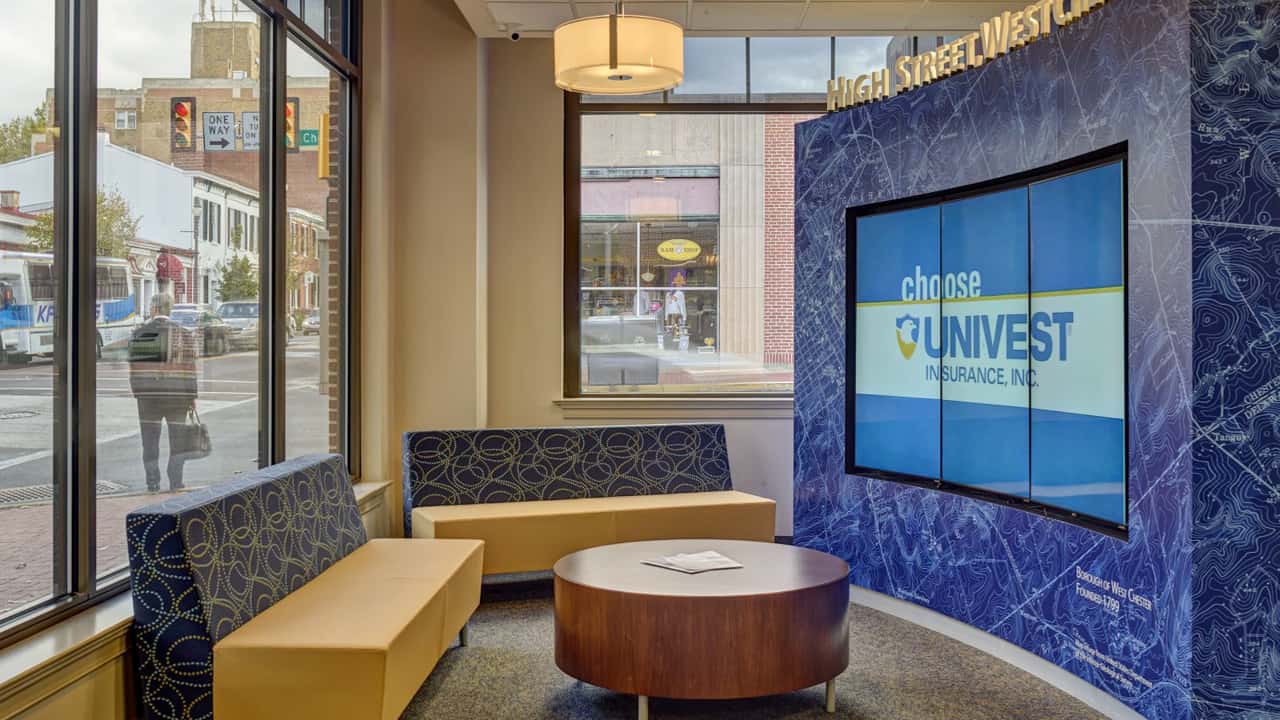 Univest Financial®, the parent company of Univest Bank and Trust Co., provides financial solutions for individuals, businesses, municipalities and nonprofit organizations throughout southeastern Pennsylvania extending to the Lehigh Valley and Lancaster, as well as in New Jersey.
In 2015, Univest partnered with Kiosk & Display to manage digital merchandising in some of the branch lobbies in its network of 39 financial centers. The footprint includes video walls, community screens, touch-screen kiosks & iPads. At the time, all this technology was connected to the internal branch network managed by the Univest IT department. In 2019, Univest moved these devices to the Kiosk & Display digital signage cellular network. Making these devices independent of its in-house network, Univest could speed faster through regulatory audits, preserve precious branch bandwidth for important customer transactions and eliminate IT involvement.
Faster Installation Saves Time and Money
Kiosk & Display's cellular network solution proved to be the perfect fit. The time it took for new screens to go live was measurably faster because corporate IT could focus on other priorities since their network was no longer a part of the project. In addition, switching to cellular eliminated the need for switch ports, firewall rules, VPN licenses, IP address management and other internal network infrastructure and management. With a branch footprint as large as Univest's this meant several thousand dollars in savings by significantly reducing installation time and ongoing costs.
Richard Mariner, Senior Vice President of property management for Univest says, "Switching the digital merchandising in our lobbies to cellular made sense for many reasons – faster installations and quicker IT audits, for example. Kiosk & Display now troubleshoots any product network issues which frees our IT department to work on other priorities."
"You plug it in, turn it on, and your digital signage is up and running," says Nathan Ackerman, Kiosk & Display Director of Operations, adding, "I brought the cellular network idea to the CEO 18 months ago and it has become a standard for many clients ever since."
Video Walls and Digital Posters
The first installation that Kiosk & Display completed for Univest was 84" video walls in five Univest branches. To make an even greater impact, each screen received a custom enclosure illustrating a map of the surrounding area. "The lobby screen was an immediate hit in our Newtown location because it was hyper-local," Mariner observed.
In addition to the video walls, Univest has replaced traditional 22" x 28" paper posters, which were costly and inefficient to distribute, with 32" digital posters. The eye-catching digital posters are conveniently and centrally managed by the bank's marketing team at Univest's corporate headquarters in Souderton, PA.
"Kiosk & Display has been the perfect partner for us, from location planning, to installation, to content development and ongoing support. They check all the boxes. They have my back, especially when I get busy with other marketing initiatives," says Dana Brown, Executive Vice President of Consumer Banking for Univest.
Learn how Kiosk & Display can alleviate IT concerns and still run your digital signage network reliably. Schedule a discovery call or call us at 800-724-8947.