[layerslider id="marketingheroesrevised"]
This is what happens when you engage your marketing heroes with a photo contest.
As a content creator and brand champion for our digital signage customers, Kiosk & Display is often asked how in-house marketing teams can do more with less. To this we ask, "Have you engaged your Marketing Heroes?"
You know them. They make you smile, laugh or even get misty when you don't expect it. You follow or "see them first" on social media. They are the talented, the trusted, or the inspiring people (pets and characters) who interact with you, and likely your brand. They are genuine: people, followers, customers and front line staff that can artfully play the line between expected behavior, honest answers, and too much information. And the best part is? They are looking for a creative outlet. Why not give them yours?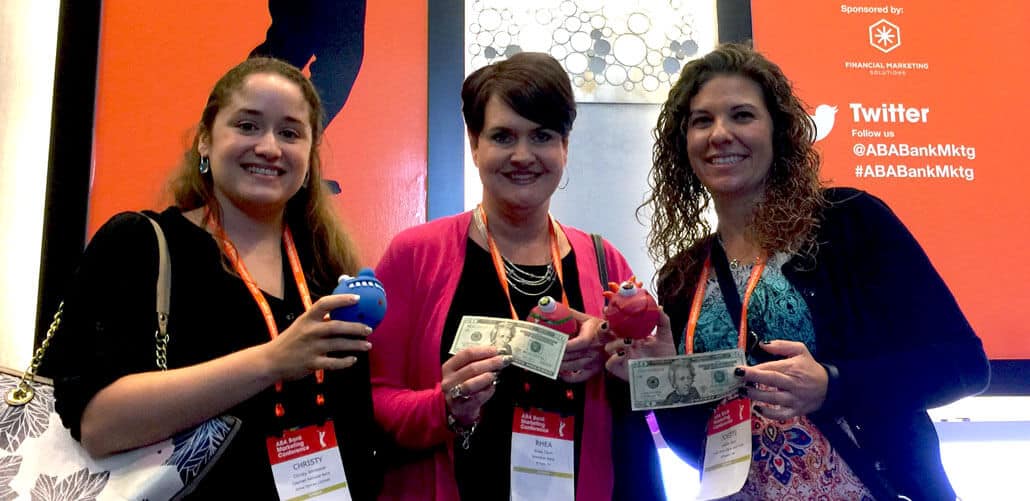 Now don't be all crazy and think we are suggesting you open your media outlets and digital signage to display the wild west of public opinion. That should send a cold shiver down all our spines. Your Marketing Heroes work best when they have clear but simple directions for their creativity. We are also not suggesting that managing and monitoring Marketing Heroes requires no effort. It does. But it is doable, and with a little structure, guidance and monitoring you can get some wonderful marketing moments.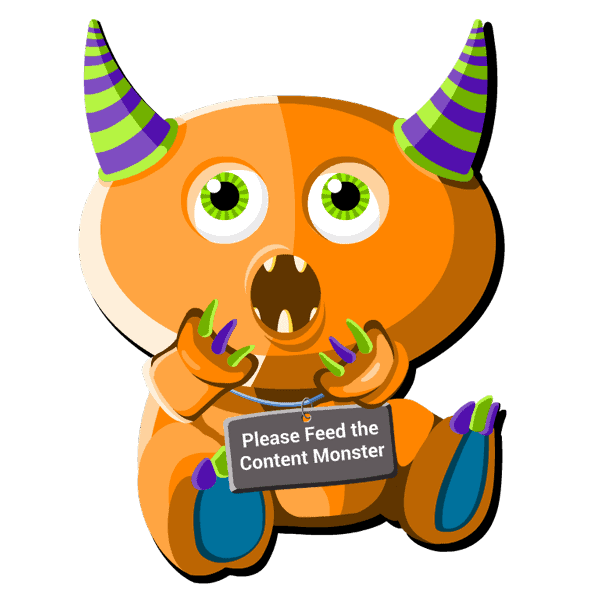 For example, Kiosk & Display goes to lots of conferences. One of our favorites is the American Bankers Association Bank Marketing Conference. This year we used the Marketing Heroes idea to bring our company, brand and booth giveaways to the top of the social stream in the conference app on a budget.
Getting the word out about our Content Monster giveaway in our booth at the ABA Marketing Conference was important to raise awareness that our interactive digital signage company also does awesome content creation. We use an adorable cartoon monster created by Greg, our head artist and animator, to illustrate the point that digital screens are like content monsters – they always need to be fed.
The challenge was, as always, how to engage people in conversation, give away your marketing trinkets and qualify them as prospective clients for your product or services.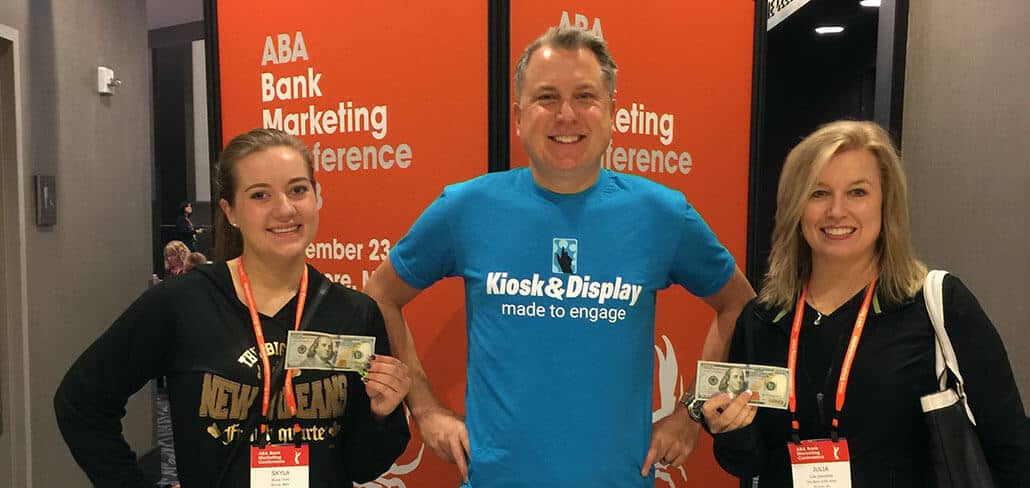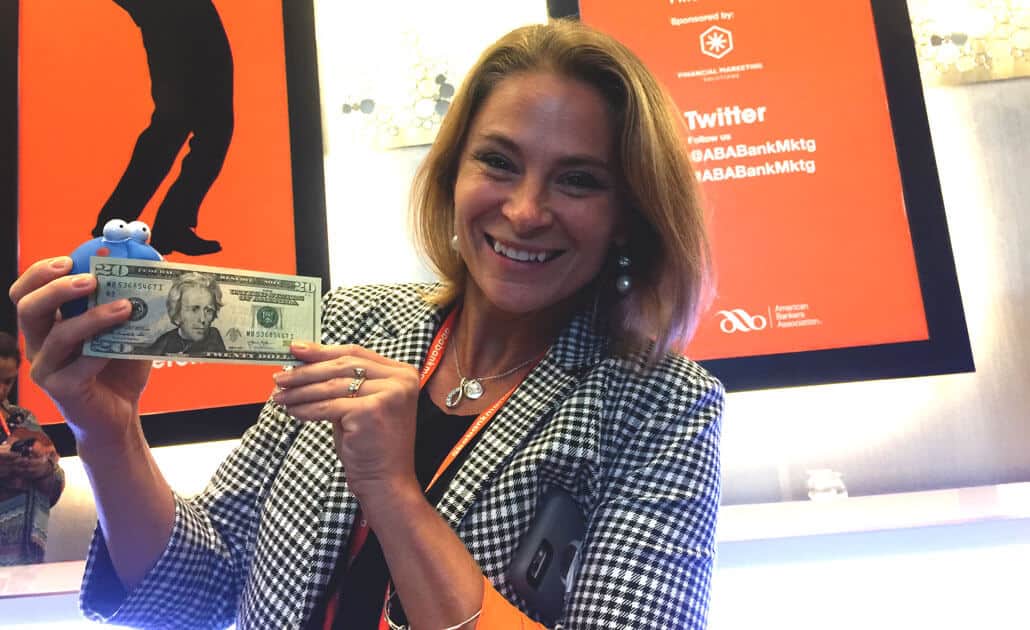 Here is how we did it:
To help engage our conference Marketing Heroes, we decided to create a photo contest in the conference app. We kept it simple. Take a picture of our Content Monster giveaway having a Thrill (out on the town, seeing the local sights) or Chill (relaxing in-room, in the pool) kind of moment and post it in the conference app. Best Chill or Thrill Moment wins $100.
To ensure things kept on the right track, without quoting the rules every time we posted, we let it be known that the contest would be judged by one of their peers. This also helped to legitimize the contest and keep the process transparent. Everyone knew they had a chance to be the winner vs. a vendor's pick of a best sales prospect.
While our cartoon Content Monster is adorable, the cost to make him into a 3D giveaway, complete with logo, was not in this year's budget. So we used inexpensive but fun, fairly indestructible rubber squirt ball monsters for our giveaway.

Instead of creating just one ad to post in the conference app, we followed the Geico Insurance method of advertising and created eight of them, all tied to the hotel or the local conference venue (New Orleans). The thinking here is not everyone will like your singular ad, but if you create a series of unique ads you will be more likely to please a larger number of small groups that total more than a single ad can reach.
To appeal to a wider range of personalties we gave away two $100 prizes, one for photos that were "Chill" and one for a photo that was "Thrill." Our ads illustrated both photo styles.
To get momentum with our contest, booth traffic, brand awareness we also:

Wore branded T-shirts with "Feed your Monster," on the back.
Posted our eight contest ads in-app at regular intervals.
Posted local area trivia in-app with our Content Monster dressed in related outfits.
Posted announcements in-app about our monster-sized chocolate dipped strawberries.
Walked around with strawberries and Monsters encouraging people to post photos with the Monster in the conference app for a chance to win $100.
We monitored the app's social stream very closely and worked to comment on every posted image as it appeared – which notified the posting author.
We got people engaged early so the campaign had time to grow.

We did not rely on booth traffic to get our Monsters out there. We walked around the show floor and found receptive attendees interested in our chocolate dipped strawberries. While they munched we got them excited about our photo contest and educated them about our "feed your content monster (digital signage)" tie-in.

We attended the conference as much as possible. Most sales-focused vendors at shows are only present for their assigned booth time and entertaining customers. We gained extra exposure by sending some of our team out to participate in conference sessions, events and the social app.

We used our ads to tie into current conference events in the social app stream. For example if a speaker was talking about bacon we ran our ad with text about bacon.
Here is what happened:
Our first image came from someone who stopped by our booth and immediately posted an image from the show floor kissing our little Monster giveaway.
We targeted two days for the contest and got over 30+ entries posted in the social app.
Our Marketing Heroes had fun with it. Lots of it.
People kissing monsters
Monsters hiding in purses, trees and tucked in bed
Monsters enjoying treats and beverages of all kinds
Monsters chilling with other pint-sized friends
Monsters overlooking pools and local sites
Monsters enjoying the conference sessions
Monsters partying – a lot – with their people
We even had a Content Monster who became a conference personality complete with conference badge and event stories.
SaveSave
SaveSave
SaveSaveSaveSave
SaveSave
SaveSave
SaveSave
SaveSave
SaveSave
SaveSave
SaveSave
SaveSave
SaveSave
SaveSave
SaveSave
SaveSave
SaveSave
SaveSave
SaveSave
SaveSave
SaveSave
SaveSave
SaveSave
SaveSave
SaveSave