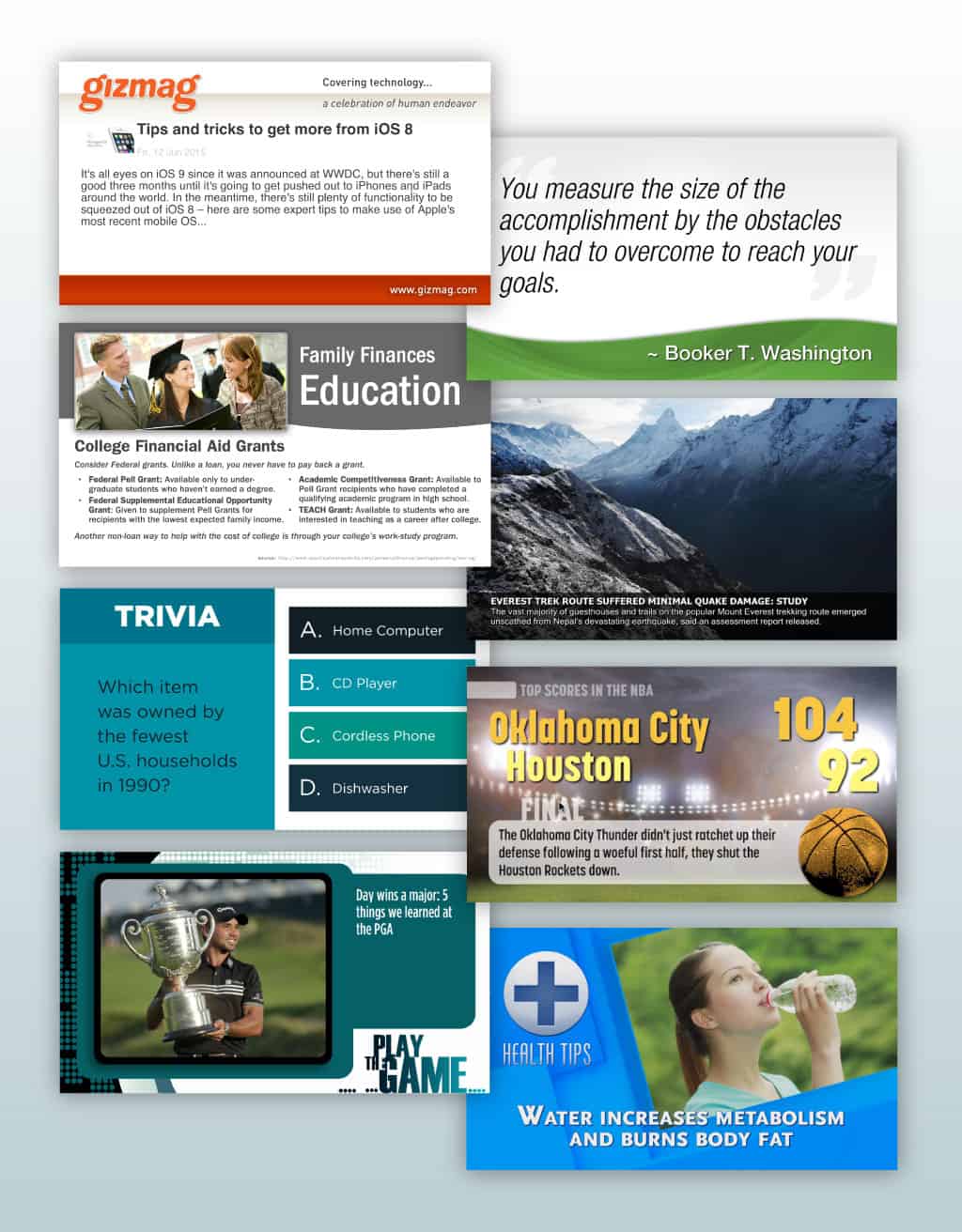 Creating custom branded content for your digital merchandising platform is an on-going and time-consuming journey. As you may have discovered, having enough fresh, relevant and interesting messages can be a daunting task.
Your content strategists at Kiosk & Display know first-hand the hours required to create and develop custom messages, as we do it on a daily basis. We believe in the power of creating brand-specific content that you "own". Your in-branch playlist should comprise of at least 75% of this type of messaging.
But to fill 100% of your playlist time, you may want to turn to syndicated news feeds. These third party content providers can help fill the voids, provide transitions between your custom animations and entertain your viewers. Some of our favorites that we often recommend are:
GIZMAG TECHNOLOGY FEED: Up to the minute news in all things technology-related
MOTIVATIONAL QUOTES: Inspirational quotations from notable individuals
FINANCIAL TIPS: Sound advice from experts on everyday financial situations and ways to save money without losing your lifestyle
SOFT NEWS: Hand-selected and edited stories without objectionable material
TRIVIA & FACTOIDS: Multiple Categories of Trivia, including Multiple Choice right/wrong answer, and factoids
SPORTS SCORES, NEWS AND STATS: Top scores from Professional and Collegiate Sports, Golf, Hockey, and Auto Racing.
GAME NOTES AND STATS: Pre & Post Game Notes from many different sports
HEALTHY LIVING: Tips to improve your health, from exercise to diet.
These are just a few of the options available to import into your playlist. Give us a call to discuss best practices on incorporating them into your daily appetite of content. They're a great way to extend your inventory of available messages.