New clients often ask us, "How do we make our digital signage effective?" We love to help clients make the most of their digital signage investment. With hundreds of clients and a twenty-year-plus track record, we know what works and more importantly, what doesn't. Here are our top five suggestions to make your digital signage investment pay.
#1 Build Messages to Solve Problems vs. Selling Products
Success is often measured in sales dollars. The key to those sales is developing relationships with your customers. Your screens can play a bigger role in shaping those relationships if you use them to help solve problems or make things easier. Think of how-to animations, self-service or online tools, even life hacks if that's appropriate for your industry. For ideas, look at ways your team helps clients every day.
For example, instead of promoting your new debit card as a convenient payment method, promote tools that come with the debit card that make it easier to manage. Kiosk & Display customer Columbia Bank did an excellent job with this – even branding these features CardPilot. It features "easy controls for ease of mind" such as spending limits, enable/disable, location usage limits as well as real time alerts.
#2 Invite Fresh Local and Sponsored (Virtual) Events
Use your screens to promote events that you support, sponsor, or (virtually) attend. There is nothing like bringing fresh energy to your space or your screen, and it shows the human side to your brand. Consider (virtually) hosting a live podcast, community announcement, demonstration, or invite an expert speaker that would be of interest to your customer base.
We love the work that customer Yury Nabokov has done for Machias Savings, partnering with Rich Brooks to create, host, and promote the Fast Forward Maine Podcast on their screens.
#3 Remove Unbranded and Unrelated Media
We know how hard it is to resist the shiny pre-baked media and stock photography, but if you can't brand it, don't do it. Make sure everything on your screens is working hard to communicate who you are. Generic content takes away from that. Be yourself!
Consider the difference between sharing an ad, a social media post, or even an event stream made by someone else vs. the same ad, post, or event, with your brand personality, focus, and customer perspective. Only one tells your authentic story.
#4 Leverage Resources Inside and Outside Your Team
When it comes to creating engaging content, leave no stone unturned. Stir up content ideas from team meetings and the surrounding neighborhood, as well as from agency partners. We think when you involve the people who are working and living in the community, good content and attention follows. The more local you can be, the better.
For example, the Marketing Team at Flagstar Bank features businesses local to area branches on-screen to promote the local community and business partnerships.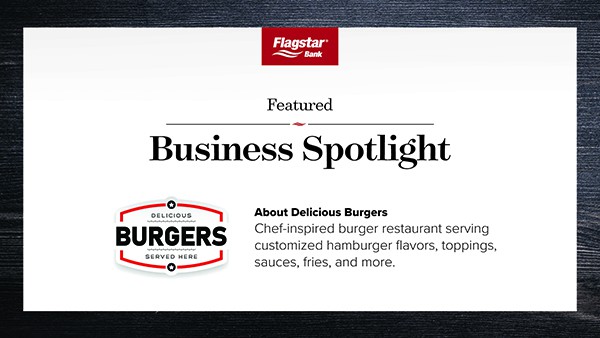 #5 Assess Your Screens, Your Audience, and Bandwidth
Understand where your screens are located and what's around them so that you can make a connection between them. Know who is looking at your screens and when, so you can connect the right message to the right audience at the right time. No two locations are alike!
Kaiser Permanete of Georgia, a customer since 2018, is strategically placing messages near their pharmacies to better feature member benefits like home delivery for prescriptions.
Conclusion
Adding movement to your marketing message brings your communication to life and gets more attention. Adding message strategies such as problem-solving, local content, brand perspective, and location awareness will help maximize your digital signage investment
Effective digital signage content is easy when you have a full-service digital signage partner like Kiosk & Display on your side. Our Content Team is here to guide you every step of the way. Ready to learn more? Schedule a meeting – and let us show you where digital signs can take your business.