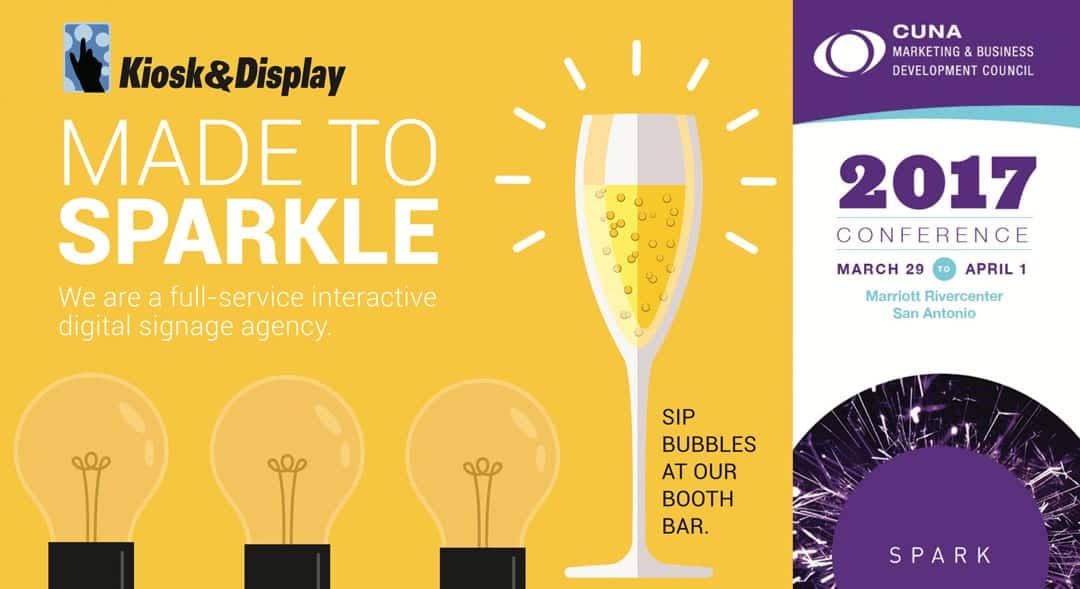 We're made to engage at Kiosk & Display, but for a couple of days at the end of March, we'll be made to sparkle as we once again participate in the dazzling CUNA Marketing & Business Development Council 2017 Conference in San Antonio at the Marriott Rivercenter. It's right on the River Walk and is being held March 29th to April 1st.
As you sip the bubbles, you'll also get the chance to see what makes K&D sparkle time and time again by our creative approach to digital signage and custom branded content. Our messaging engages the member with our award-winning approach to animated fun. Fun like we have with State Employee Credit Union and their campaigns we design, animate, schedule and distribute:
"We love Kiosk & Display. They always add something fun when they animate our ads."

– Senior Graphic Designer, SECU
So get out of your comfort zone, come by our booth and give the only full-service interactive digital signage agency a look. If our work doesn't get your spark going, maybe our champagne will.
Oh, and if free champagne is just getting your party started, then you'll want to join us for our dinner event. Just ask any of us in the booth for details.
Learn More About SECU Animation Strategy.
SaveSave