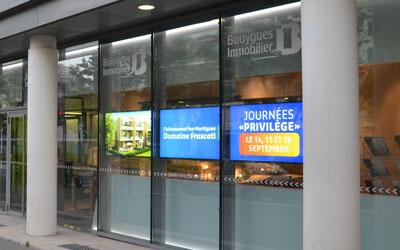 Display screens continue to evolve at a rapid pace. This year's 2014 CES show debuted amazing ultra HD screens and OLED screens that even bend. Most of these are either too expensive or have too little available content sources to go mainstream public today, but will be easily obtainable in the near future.
There are however a number of specialty screens available today for commercial application, such as digital signage, that are within reach and the upcharge isn't that significant. Take for instance the application situation where you would like to install exterior facing screens to broadcast your branded content out to the street. At K&D, we're getting more and more requests to do just that as our clients are realizing the benefits of digital merchandising extends to the "street".
Well, we have a great solution utilizing a preferred vendor of screens with the brightest levels of "nits" on the market. The higher the nit number rating, the brighter the screen. DynaScan, a leader in premium displays, offers a complete line of award-winning ultra high brightness screens with up to a 5,000 nit level. Take it from K&D, that's a lot of nits.
We have access to DynaScan ultra bright screens at dealer price points and can save you money on exterior digital merchandising screen installations. Give us a call and we can spec your pending project. At K&D, we feel that the nits matter for people to get your messages.