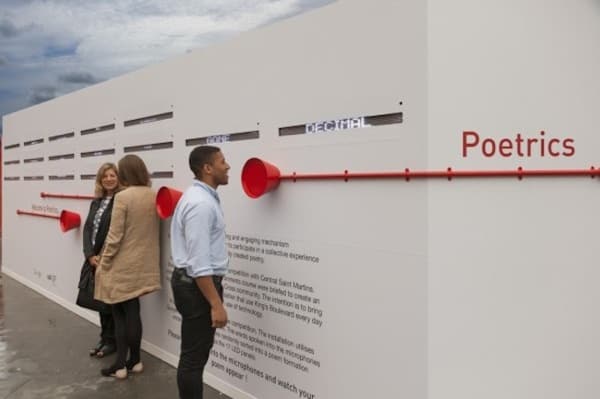 There's a lot of creative minds at work in the retail digital signage world. Many fantastic applications are being developed and deployed everyday that stretch the imagination. Most involve some sort of human/technology combination that truly embraces and engages the consumer/participant. This involvement sears the experience into the user's brand pleasure zone that develops the brand loyalty that we're all chasing.
Check out this speech-to-display interactive billboard deployed by Google in a London train station (is it just me, or does it seem like all the coolest interactive signs get placed in a London train station?).
This engagement turns commuters' words into lines of poetry. The Poetrics project consists of microphones placed on 17 LED panels at the King's Cross station (which is next door to Google's new HQ). Commuters speak into them and the billboard uses Google's voice search technology and the Google Speech platform to recognize what is being said, then turning it into random lines of poetry.
Now everybody is a poet and didn't know it… until they saw their words come to life.