Opportunity
When you run a digital signage company, you see windows of opportunity everywhere. Jon VanderMeer, CEO of Kiosk & Display, couldn't help noticing, during a routine medical visit, that many of the screens at Kaiser Permanente Georgia locations were displaying stale content – or had screens that had gone dark. He knew his company could help.
Jamie Ram, Kiosk & Display Sales Director, reached out to Chase Smallman, Senior Manager, Brand Engagement at Kaiser Permanente Georgia, to talk about their digital signage challenges. What she discovered was that some locations didn't have adequate Internet access. When it came time to update content, Smallman's team would have to stop and drive from site to site – flash drive in hand – to update the digital screens throughout their statewide network.
Challenge
While creating a reliable network for Kaiser Permanente Georgia's digital signage was a problem to be solved, the challenge of maintaining fresh, relevant content was of equal importance. The new digital signs needed to work on multiple levels to not only educate and inform members about timely service and class offerings, but to also entertain and elevate the brand experience.
Solution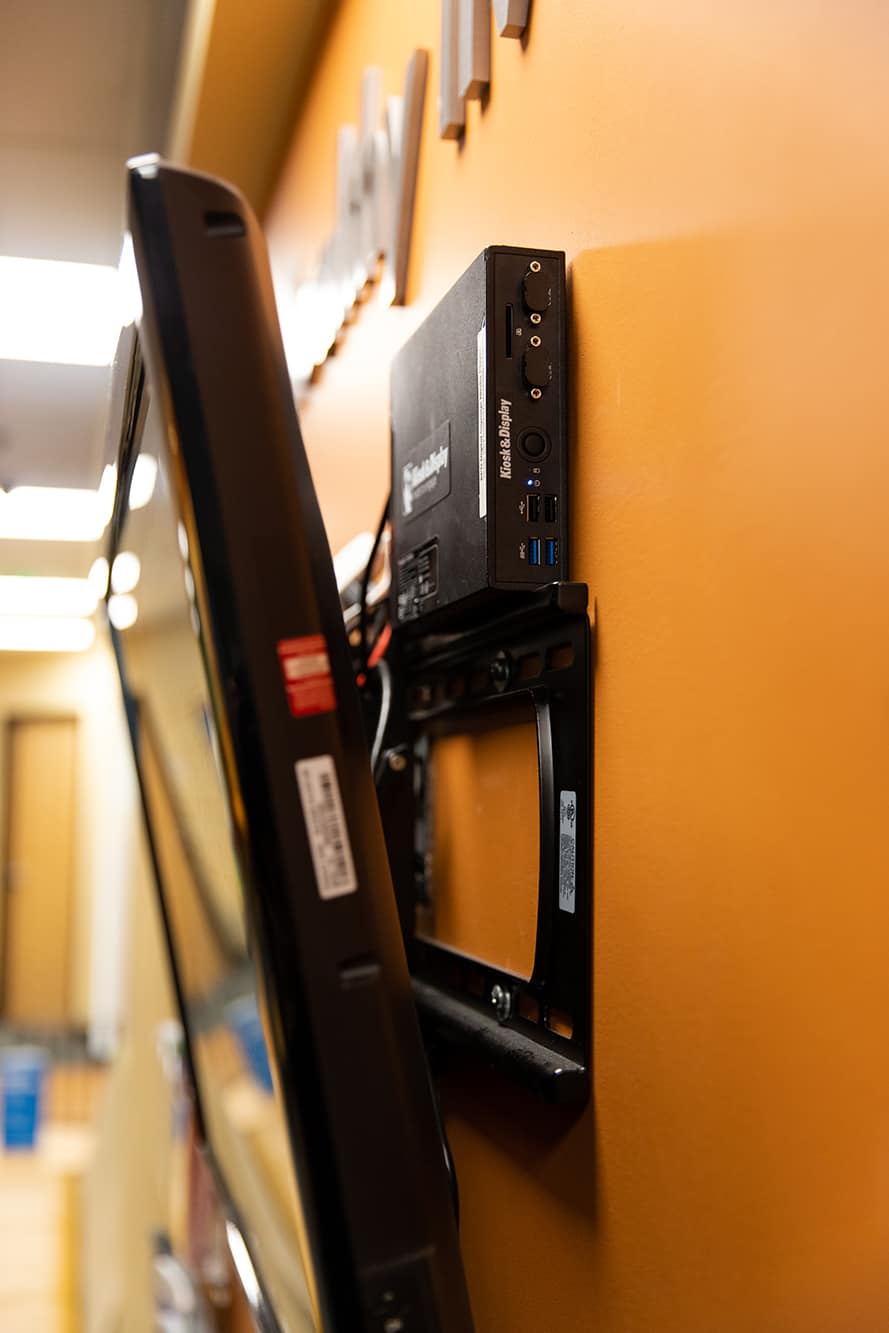 Kiosk & Display proposed a dynamic content system that would deliver the right message in the right place at the right time. Each location would be able to display custom content offerings but remain centrally managed by the Kaiser Permanente brand engagement team in Atlanta. A secure and stable Cellular Wide Area Network, by industry leader Ventus, would ensure all locations had reliable connectivity for every digital sign. Remote monitoring would ensure that screens, players, and connections were all working as intended. Fresh content would be arriving on Kaiser Permanente screens monthly in support of their communication strategy and brand engagement goals.
Site Planning
The final solution required the mapping and coordination of more than 50 media players and hundreds of pieces of equipment – some located in the same building on different floors and others across Georgia. Nathan Ackerman, Director of Operations at Kiosk & Display, worked closely with Kaiser Permanente's facilities team to establish the unique needs of each location based on their diverse infrastructure, and existing equipment. Small details like cabling were mission-critical to ensure content placement was correct for each building and floor. As a full-service digital signage provider, Kiosk & Display included services like these as part of the planning process at no extra charge.
Content Subscription
Creating and maintaining robust, fresh, and local content for 26 geographically similar but demographically diverse medical centers, specialty centers, comprehensive medical centers, and medical offices took a plan that could renew itself. Kiosk & Display's Director, Content Strategy Sharon Klocek-Ibbotson planned the content strategy early on. "We wanted to focus on eliminating the problem of stale content while maintaining Kaiser Permanente's brand standards," said Klocek-Ibbotson. "So we created a storyboard for approval and treated it like a subscription – to deliver content each month. This subscription approach ensures that branded content will update both automatically, using branded partner Twitter feeds, and dedicatedly with health and entertainment media that Kiosk & Display creates for approval," noted Klocek-Ibbotson. "As needed, we flex our dedicated production, so we remain responsive to new Kaiser Permanente communication needs or initiatives while staying within a set budget, and keeping content fresh."
Outcome
Kaiser Permanente's goal to inform, educate, and entertain members is happening in partnership with Kiosk & Display. "Kiosk & Display has been very quick to react to our needs," Smallman said. "We needed a partner who could work with us on so many levels."
Kiosk & Display continues to add value to the relationship. "We are exploring digital wayfinding, digital vs. print marketing opportunities, and elevating the cost-saving effect of member education and benefit awareness, " said Jon VanderMeer, Kiosk & Display Chief Experience Officer. "We could not ask for a better partner."