Today we wrap up the extensive coverage of SECU's super high-tech, 24-hour branch located in downtown Baltimore, MD. Kiosk & Display played an integral role in connecting all the digital member touch points in the lobby, as well as supplying K&D's reliable digital merchandising iPoster platform. And of course, it's all energized by award-winning, custom-created digital content crafted by experienced K&D digital designers.
As we finish our blogging, we have to take a moment and brag about a unique solution for displaying digital content through an exterior window with visibility to heavy foot traffic on the sidewalk. Historically, an exterior window-facing digital screen always had a downside…the backside. Nobody wants to look at wires and connections and black plastic. Previous solutions were to build custom mill work boxes or panels to hide the mess…but that still represented wasted space facing the interior.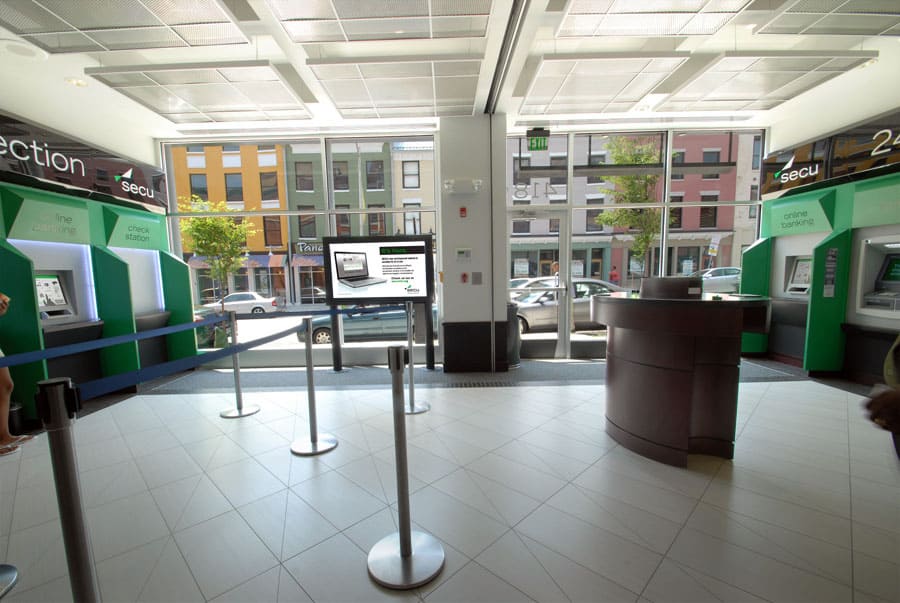 Dual-sided Digital Signs
Enter the K&D solution…the dual-sided iPoster digital sign mounted on a pedestal. That's right, two screens connected back-to-back on a freestanding pole and base. The same marketing messages broadcast externally and internally. The beauty is that the electronics are mounted inside the connecting frame and are completely invisible. Plus the structure requires only one power source and two Cat6 cables. Simple! The content for both screens are run by the iPoster Digital Merchandising Management Platform, so it is easy to change and schedule the messages. K&D wants to thank Chambers design for their vision on this project!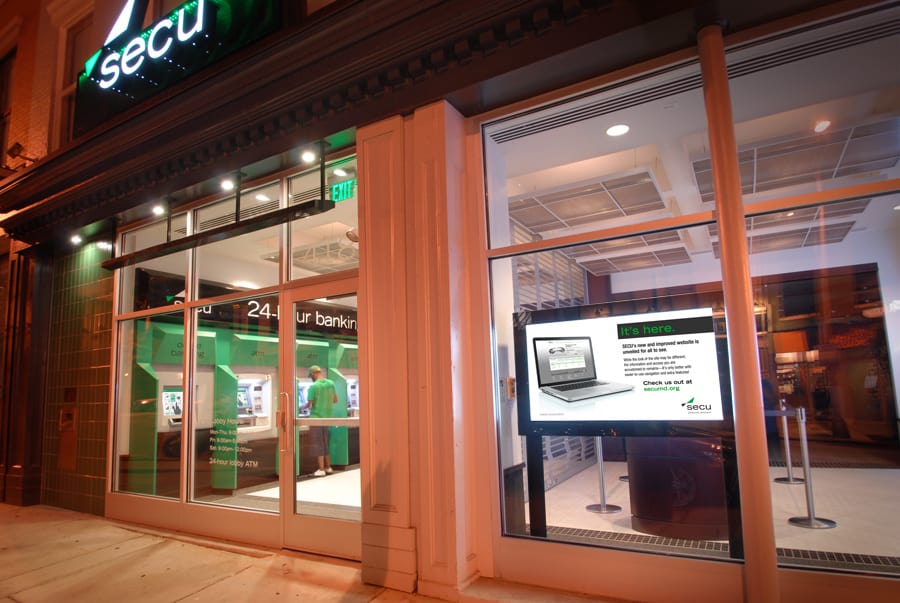 Full Service ATMs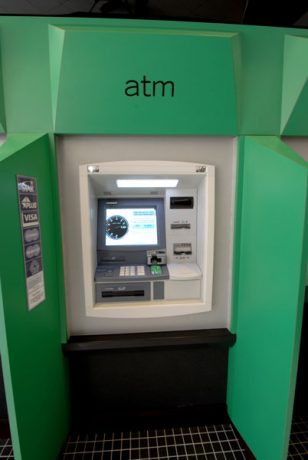 While K&D didn't invent the next generation ATM, we can certainly take credit for providing the same rich digital content to power the marketing messages. The new ATMs are fast, fun and comfortable to use. SECU finds that many members start a transaction in one channel and then finish it by using an interactive ATM.
The SECU 24-hour lobby has 3 full service ATMs. The K&D-supplied ATM attract screen animations are connected to the branch-wide iPoster Digital Merchandising Management Platform so they are easy to schedule and change.
Final Word
We hope you have enjoyed this four-week journey through the complexities of the robust digital 24-hour lobby that SECU has invested in. We're proud to have played a leading role in making it all "work." If we can get this entire array of equipment to "play nice" with each other in a coordinated, relevant and meaningful manner for SECU's members, think about how we can connect you to your clients. We're up for the challenge, don't you think?