We're popping our buttons with pride around the K&D offices as we celebrate our very own Sharon Klocek-Ibbotson's graduation from the ABA School of Bank Marketing and Management.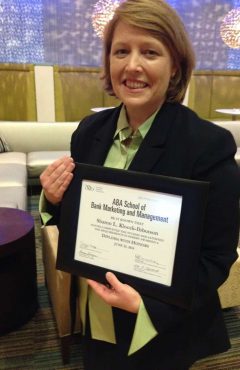 This school is the industry standard for bank marketing education. It is the only national school of its kind, where students learn from an unmatched faculty of industry experts and practitioners. The impact-driven curriculum provides a solid foundation in marketing principles, strategic leadership, and critical thinking.
As financial institutions re-evaluate their business models and seek new sources of revenue, marketing plays a pivotal role. Business lines rely on intelligent marketing to successfully increase profitability and demonstrate tangible results.
With her degree, Klocek-Ibbotson, Content Strategy and Development Manager for K&D, is now well-versed in the challenges facing FI marketers and can leverage that knowledge as she works with marketers on their digital merchandising strategy and creative.
Way to go Sharon! All the best from your colleagues at Kiosk & Display.