Recognized in the Healthcare Environments Category for Kaiser Permanente Georgia Real Time Feedback
We are excited to announce we have been named a finalist in the Healthcare Environments category of the 2023 Digital Signage Experience Awards (DIZZIE) for Kaiser Permanente Georgia Real Time Feedback Engagement. The awards program is presented by Digital Signage Experience (DSE) and honors visionaries from around the world whose digital signage installations and campaigns challenge existing standards and drive the industry forward.
Kiosk & Display Director, Content Strategy Sharon Klocek-Ibbotson says, "We couldn't be happier to be named a DIZZIE finalist in the Healthcare Environments category. It is a privilege to work with the Kaiser Permanente Georgia team to elevate their brand and deliver a comprehensive digital signage solution…all with less work for the Member Engagement Team."
Kaiser Permanente Georgia had been creating 40+ images per week for their digital screens, a labor intensive and time-consuming task. With the help of Kiosk & Display, they now send the Content Team a weekly CSV file that produces timely and engaging messages. This valuable service lets Kaiser Permanente Georgia easily and efficiently put the voice of their members on display for others to see, reaffirming their choice of healthcare providers.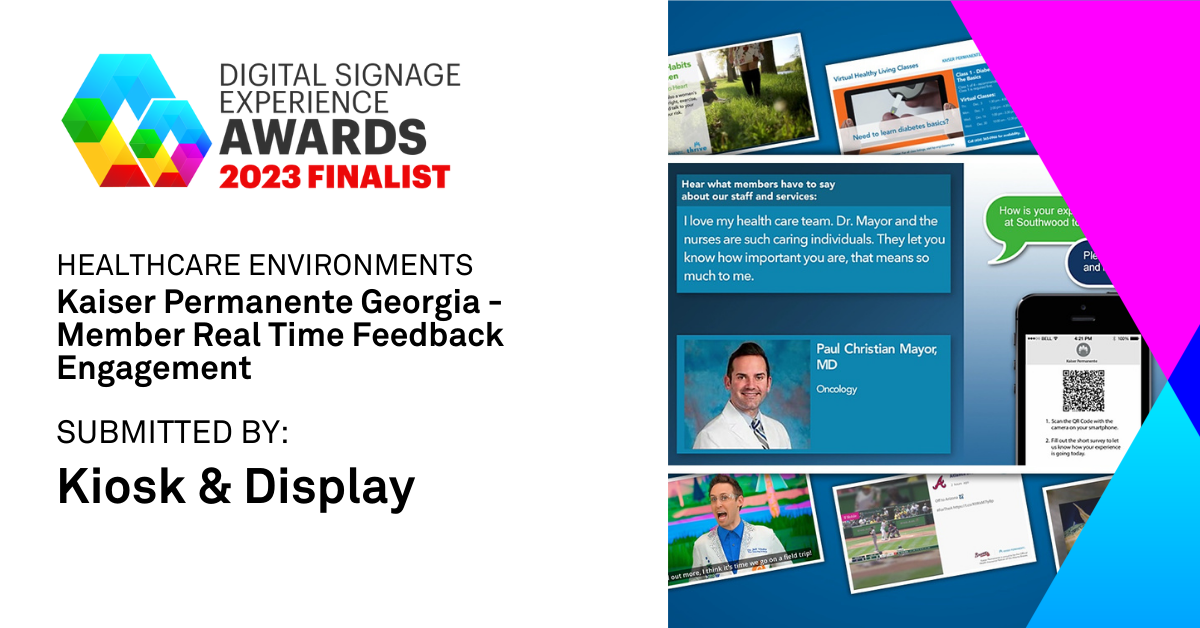 David Drain, DSE Director of Event Programs said, "The DIZZIE's were created to recognize companies who are leading the way in harnessing digital signage to reach target audiences and fulfill strategic objectives. We congratulate Kiosk & Display on being named a finalist."
The judges for the DIZZIE Awards were provided by the Digital Signage Federation, and represent some of the most innovative thinkers in the digital signage industry. Click here to view the list of Judges.