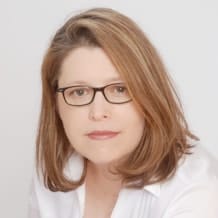 The ABA School of Bank Marketing and Management is a two-year education program for professionals to further their development. Attendees learn key marketing principles, strategic leadership, and critical thinking. Equally valuable is the professional camaraderie and the connections developed as resources for future problem-solving and new ideas.
Kiosk & Display sent Content Manager, Sharon Klocek-Ibbotson to further connect with, relate to and support the needs of our bank marketing customers.
Here are some of Sharon's experiences, lessons learned, and connections made.
The Experience:
"For me, school was like sitting in an informal focus group for our customers for a week. It gives us incredible depth and understanding of our customers' daily challenges. I have huge appreciation for all the hard working folks I met."
Lessons Learned:
"In one session we compared branch traffic changes with customer profile and product profitability and it was immediately clear to me that we want to strongly encourage our digital signage and kiosk customers to build media to better address and highlight commercial customers."
"I absolutely loved the creative problem-solving in our Marketing Planning and ROI sessions. I helped to propose ideas that changed rate driven loans to value driven lending by adding a car negotiating service to a product offering, then mark it with the ROI framework to justify it the expense. I would love to be a think-tank resource for our customers with these challenges."
"Our last session was compliance. I now clearly understand the tug-of-war that exists here. The newest regulations won't make this easier, but I am thrilled to have current guidance on how to bolster our best practices for compliance-friendly digital signage and kiosks. This will be invaluable to our customer base."
Connections:
"It was great to work side-by-side with marketing managers on real marketing challenges, with all the project ROI considered, and then blow off steam with everyone after. From the Braves game, dinner & shopping, to bowling with a whole lot of dancing thrown in — it made for a great mix of learning and developing friendships."
Future:
After successfully completing Year 1 requirements, Sharon will be automatically enrolled in Year 2. To graduate, she must complete several between-session assignments, including a marketing plan and an executive presentation, under the guidance and direction of faculty advisors comprised of distinguished marketing professionals. Join us in celebrating Sharon's success to-date and wish her well with year 2.