Bank and credit union professionals who have spent time working in a branch environment know about the precious time each morning before the doors open. The team gets settled in, organized and prepared, ahead of what is to come. Once the doors open everyone is "on," smiling and serving at their best. The days fly by, which means there is rarely time available for midday meetings. That is why many successful branch managers count on holding a morning huddle to set the tone for the day.
Benefits of a Morning Huddle Meeting
Intended to be short and to the point, a morning huddle is less formal than a typical staff meeting. Branch managers might review sales results, discuss operational updates, upcoming schedule changes, and recognize staff for a job well done. The morning huddle is intended to get everyone on the same page in advance of opening, when each team member has their attention focused on the customer in front of them.
In addition, a tone-setting morning huddle keeps the focus on today and what needs to be accomplished. It gives team members the opportunity to ask questions in an informal setting. Most of all, it's another way to build a sense of togetherness and teamwork.
Huddles at the end of the day can be less effective simply because employees want to leave and move on with their day. Children, the gym, social obligations or walking the dog all take priority.
Given that the morning huddle is an important source of information sharing, it's essential that the entire team is ready to start the huddle on time. Our clients who maximize the benefit of their digital screens by displaying employee-facing messages (before and after branch hours) take it one step further: they add a morning huddle countdown timer to stress the importance of being on-time and present. While a morning huddle countdown timer is surprisingly simple, it's effective.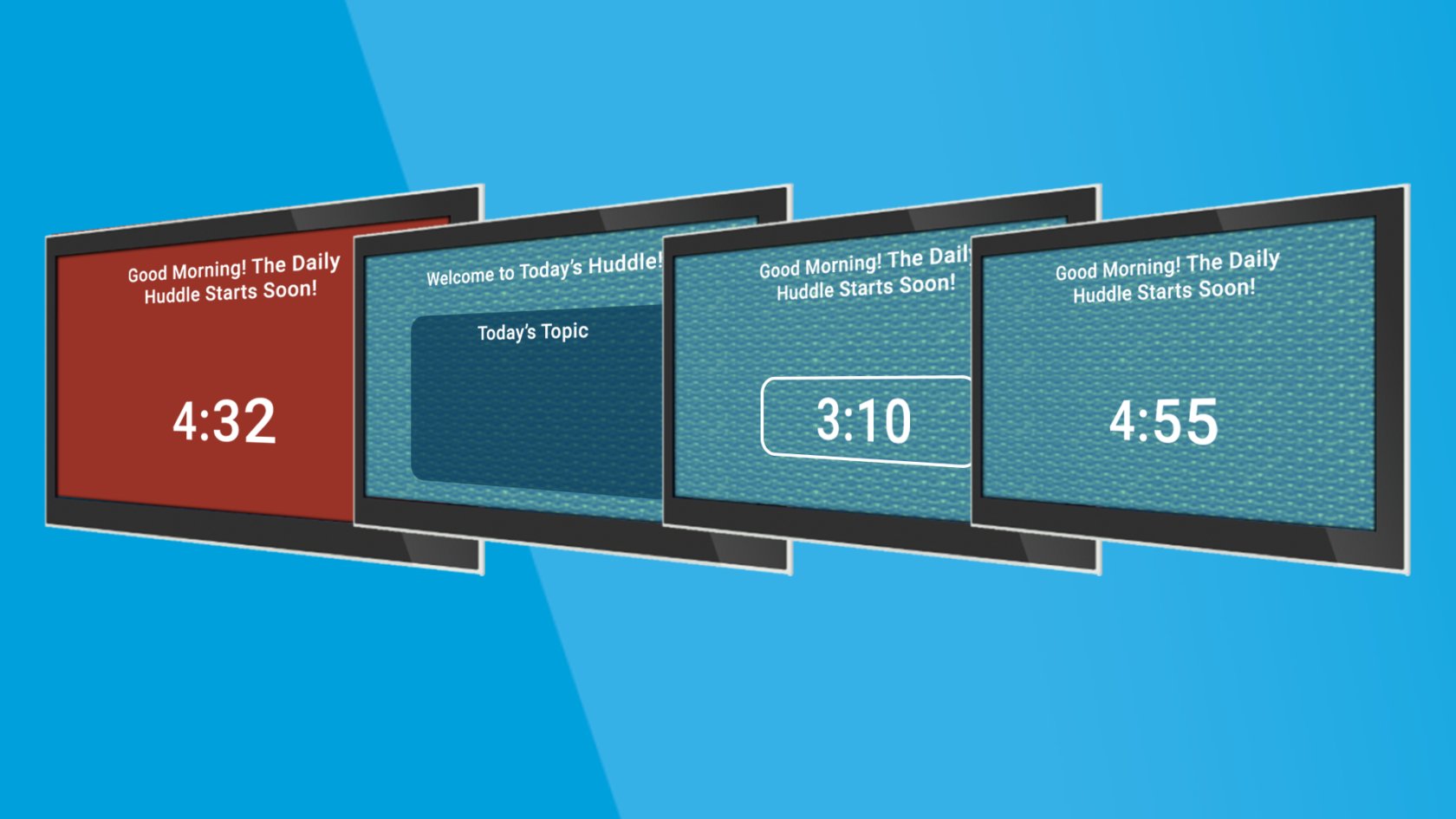 Mix Up the Huddle Content
A branch manager or assistant manager often leads the daily huddle. One way to mix it up is to delegate huddle leaders or ask for volunteers to lead the huddle once in a while. This gives team members a chance to build their leadership skills and speak in front of a group in an informal setting. You may want to assign each team member to be a subject matter expert and take turns sharing their area of expertise. Others might talk through a challenging customer situation by describing how they managed it calmly or turned a cranky customer into a smiling one.
A round-robin meeting format allows everyone the opportunity to speak. Employees know they will always have the opportunity to ask questions, and not have to wait for one-on-one time with their manager. Plus, others may have the exact same question but have been afraid to ask.
Just for Fun
We like these ideas for morning huddles for days when there's less business to discuss. They build camaraderie among team members by learning something new about each other. The more cohesive the team, the more likely the chances of success.
Other Uses for Huddle Countdown Timers
We love to see our clients getting creative with their countdown timers! One client used their countdown timer to count down to Major League Baseball's opening day. Another client used their screens to count down to the launch of a new and improved mobile app.
Get More Value from Your Digital Screens
At Kiosk & Display we've worked with clients for over 20 years to deliver the most value to their digital screens. Our clients who see the best return on their investment use the screens not only for member facing marketing messages, but also before and after hours for employee education and engagement.
Could your digital signage program use a boost? Schedule a discovery call with Kiosk & Display's Director, Content Strategy Sharon Klocek-Ibbotson for a content review and fresh ideas guaranteed to make your screens work harder for you.