Novelis is the world's largest recycler of aluminum. Headquartered in Atlanta, Novelis North America has more than 3,400 employees across ten locations in the U.S. and Canada. In addition to recycling, Novelis supplies the automotive, beverage can, marine, transportation, construction, and energy industries.
The Challenge
With such a geographically diverse workforce, Novelis North America's challenge was reaching employees who don't work at a computer or sit at a desk all day – the majority of its workers. Communications Lead Daniel Groce explained, "We needed a way to keep employees informed about what's happening in the company."
The company launched a formal search process for a vendor that could provide a digital communications solution. At the top of their list of requirements was the ability to control content from a central location, while also allowing each facility to have its own, site-specific content loop.
The Solution
Groce says Novelis North America decided on Kiosk & Display because of their tailor-made approach. "We can use the platform on our own, but we have access to their tech support and content staff if we need it. We appreciate having those resources available."
In addition to being able to control content remotely and display varied content across the Novelis North America network, Groce adds, "Ultimately, the remote access functionality led us to partner with Kiosk & Display. Their staff can troubleshoot remotely, and the remote reboot feature is good to have if we ever need it."
The Kiosk & Display platform also integrates well with Novelis North America's other systems. They've incorporated location-specific weather data, RSS feeds and videos into each facility's content loop.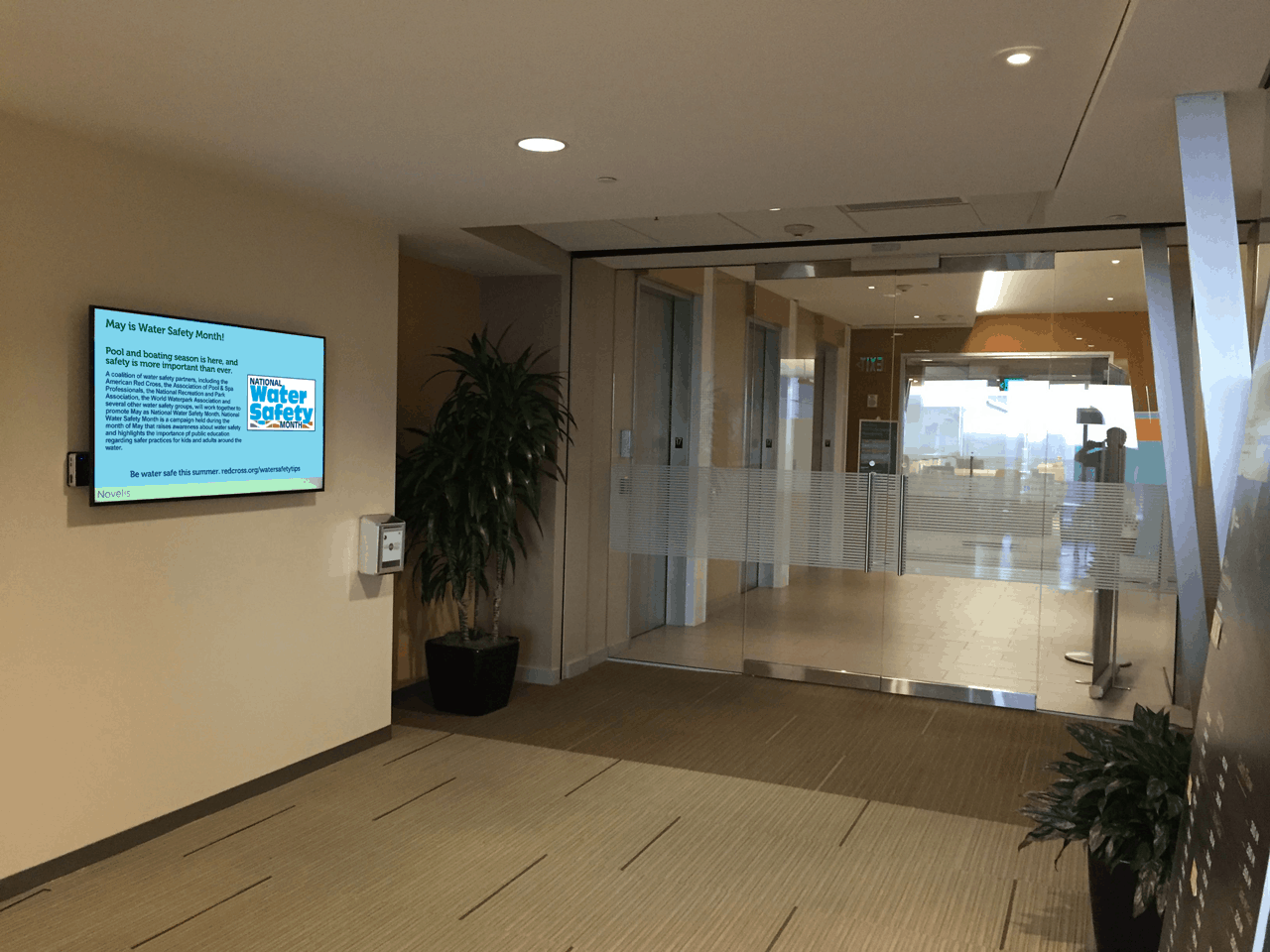 The Result
The Kiosk & Display solution was one component of Novelis North America's employee engagement initiative. Groce says that over a two-year period, employee engagement increased 13%, thanks to better-informed employees who understand and appreciate their role in the company's success.
The Partnership
Speaking about Novelis North America's day-to-day working relationship with Kiosk & Display, Groce says, "It's a good partnership. They challenge us to do more with our displays…they give us ideas for new content. Jon always has new ideas and helps us think of things in a new way. They help think alongside you."
We're proud to partner with Daniel Groce and the Novelis North America team.