In our industry, InfoComm is one of a few trade shows we plan to attend – as a participant, not a vendor – every year. In fact, this year five K&D team members attended the show in Orlando. It's important that we get to see the best of digital signage, how it's applied in different industries, and what's next on the horizon. "It's our &" to stay in the know so that we can make the best recommendations for our clients. Here are a few takeaways from our team:
InfoComm Orlando was very interesting and eye-popping. I first noticed the what seemed to be a regular large window, but LED coordinated lights presented an image of a person walking across the glass meeting room. I figure this type of coordinated tech could change the way some client's marketing content reaches their customers.
I also noticed a message board halo. The board displays any news content of your choice. The unit itself provides lighting to the immediate area of choice such as waiting areas. The board offers you a slick and industrial look displaying your choice of messages. A great example of this halo board is the ability to display the Stock Exchange data for waiting clients.
Another piece of eye-popping tech I was saw was the full touch table. I took the time to relive my
childhood and put this bright invention to the test. I must say this table and the touch response is gaming satisfaction. I will put this out on the table and say I'm having a really hard time finding use for a costly device where consumer demands don't outweigh the costly price for this luxury tech.
Augmented Reality Glasses
Epson was showing off their new see-through displays by integrating them into augmented reality glasses. According to Epson, the primary purpose for these glasses was for real-time communication between the technicians in the field and the engineers back in the office. By using these glasses, the engineer is able to see what the technician is seeing, and do live annotation right in the technician's field of view. Once this technology becomes readily accepted, we will never again have to worry about "Pull the blue wire." "Which blue wire? They're all blue!"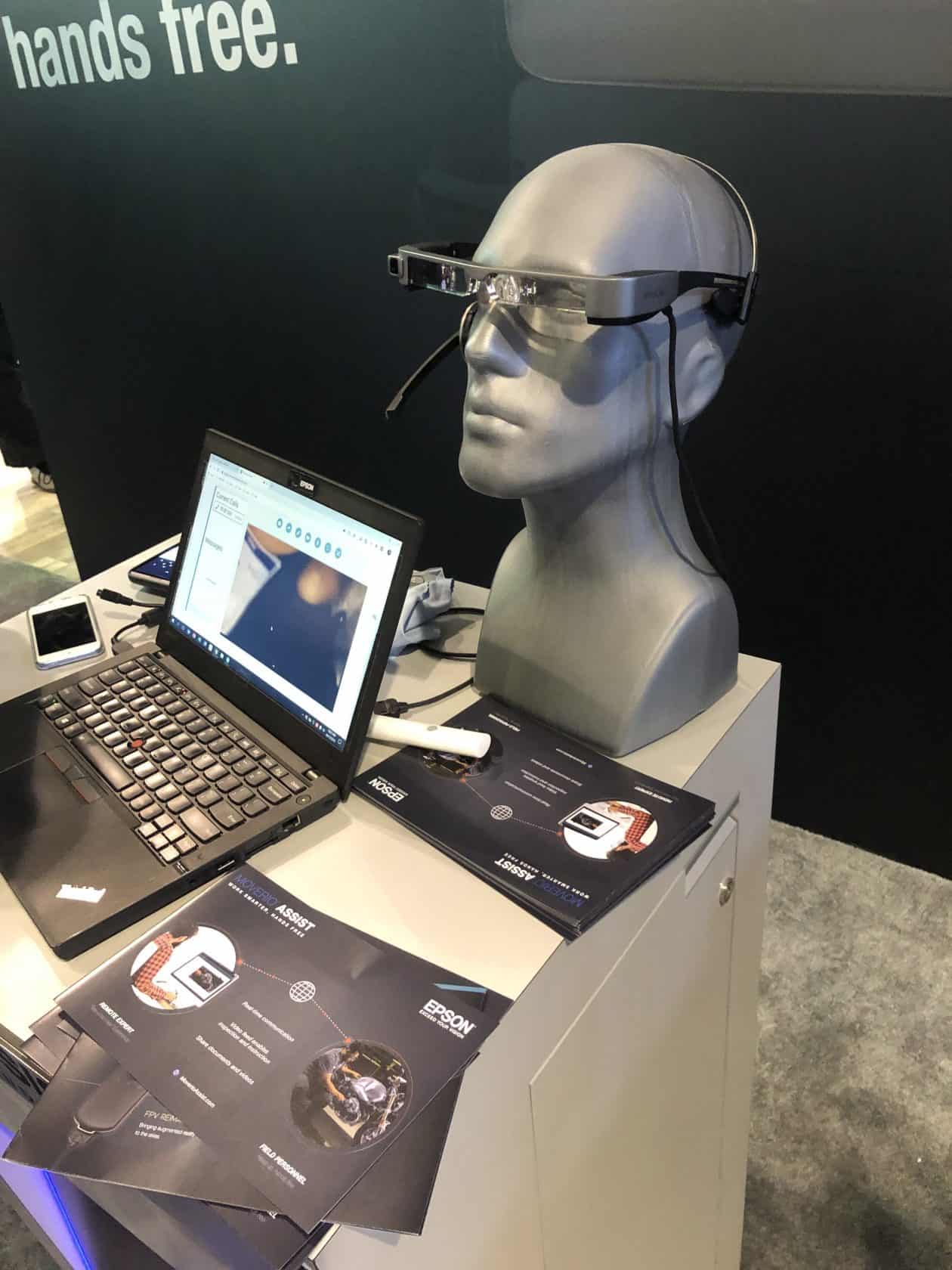 Micro LED Panels for the Board Room
Installing a 98" display inside a conference room, board room, or meeting space has proven difficult for years. They don't fit in elevators, and good luck trying to maneuver them through narrow hallways. Even if you can get it into the meeting space, they're so heavy that it takes at least three technicians to install them. SiliconCore found a solution, and it gets much bigger than just 98".
The same technology that has been used for many years for digital billboards along the freeways has finally found a practical application within the boardroom. SiliconCore is using micro LED panels with a 1.2 mm pixel pitch to create extra bright, HDR, 4k displays that are easy to transport and install. These displays come in 110", 130", and 165" display sizes. For easy transportation and install the screen breaks down into four pieces and the customized mount makes it easy for two technicians to install in just 3 hours. Additionally, the brightness is easily variable and with a wide range of settings that can be easily controlled through the setup menu or through a control processor.
This also means no more washed out projectors with noisy fans in conference rooms.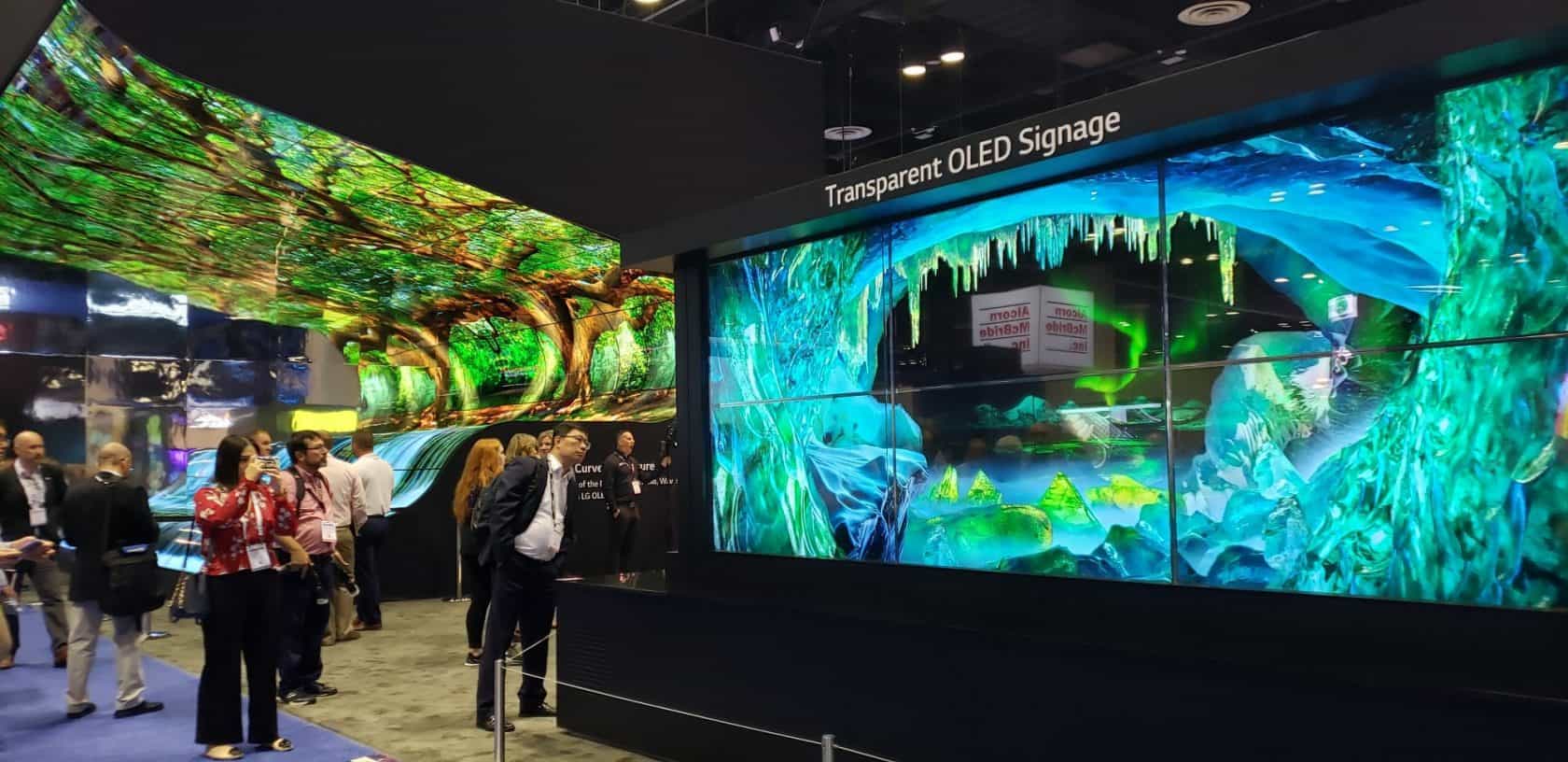 LED Floors
While I'm still trying to figure out the practical applications that will create an ROI, LED display flooring was being shown off by several different manufacturers. If what you're looking for is to create a very modern, chic, and infinitely customizable floor, these are perfect. By creating different types of content, you can completely change the ambiance of the room.
Similar technology was also used to line the front of booths. When the content combined clear messaging, attractive and enticing colors, and subtle movement it was quite effective at not only drawing the eye, but also at drawing in foot traffic.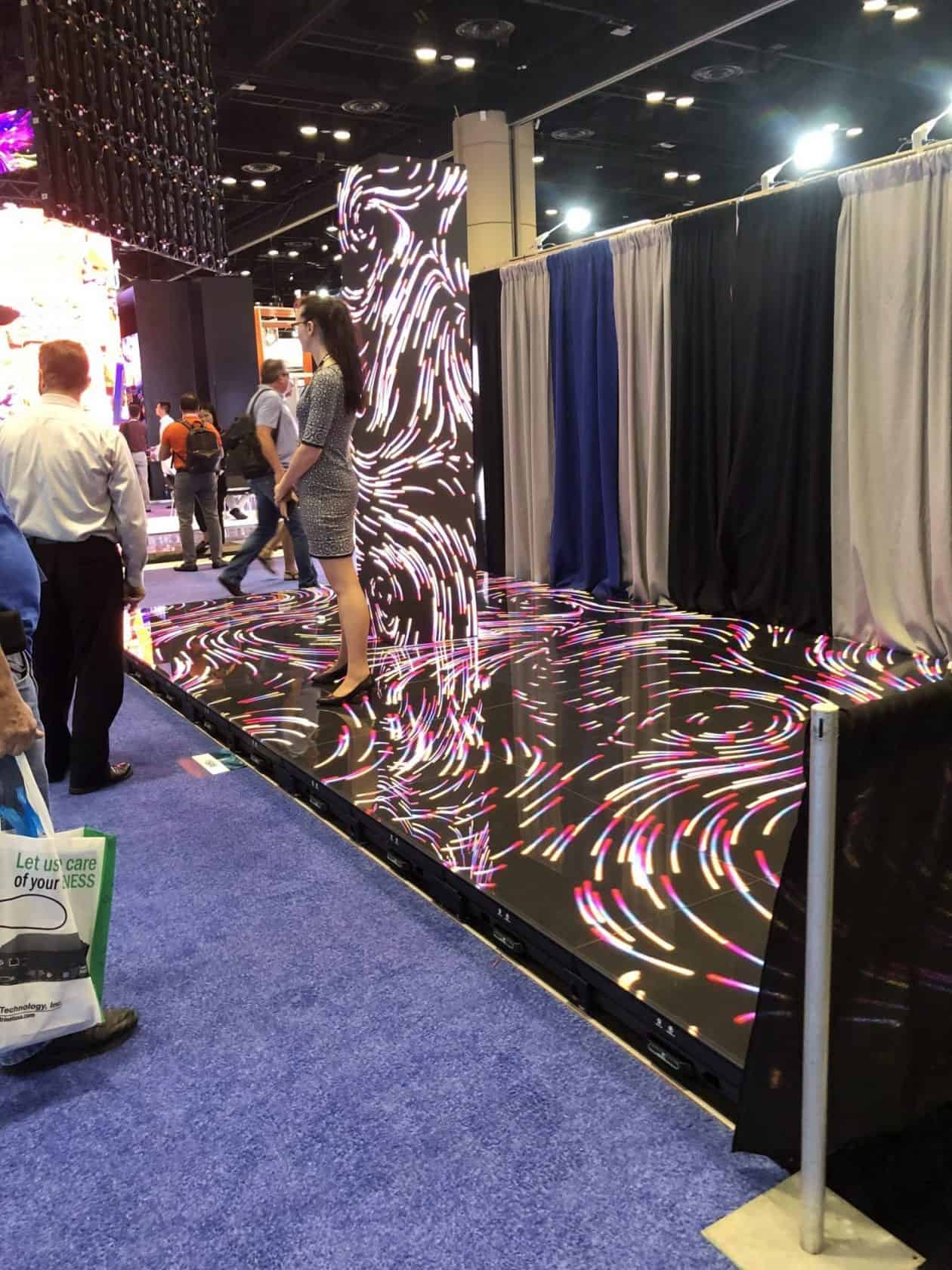 Transparent LED Displays
What were once originally a novelty are now fully viable displays, perfect for any retail environment. Clear LED displays essentially create an augmented reality experience that allow for subtle or dramatic changes to the ambiance created by a window display or display case, and can draw the eye while beautifully showcasing a product.
I have already seen these out in the "wild" a few times, most notably installed as the front glass of a Budweiser full-sized cooler at a local American Legion post, but we are just starting to scratch the surface of the potential for these types of displays.
LED Wrapped Pendant Lights
I was amazed at all the different and creative ways manufacturers are coming up with to integrate LED displays into all sorts of environments, and this one in particular caught my eye.
These are pendant lights that I see as perfect to hang above tables, check stations, in waiting areas, or other places that people congregate. While they can definitely add to the ambiance of an environment, they can also provide billable advertising space or valuable information (such as the stock data shown in the image).
These aren't for every environment, but I can see them having real value in certain situations.
There is no other show like InfoComm. Let us stay on top of the latest in digital signage technology, so you don't have to.