A manufacturing leader's most important role is ensuring a safe workplace. How can you keep employees informed of safety best practices when your deskless workers are spread across teams, locations, and shifts? The answer: digital signage.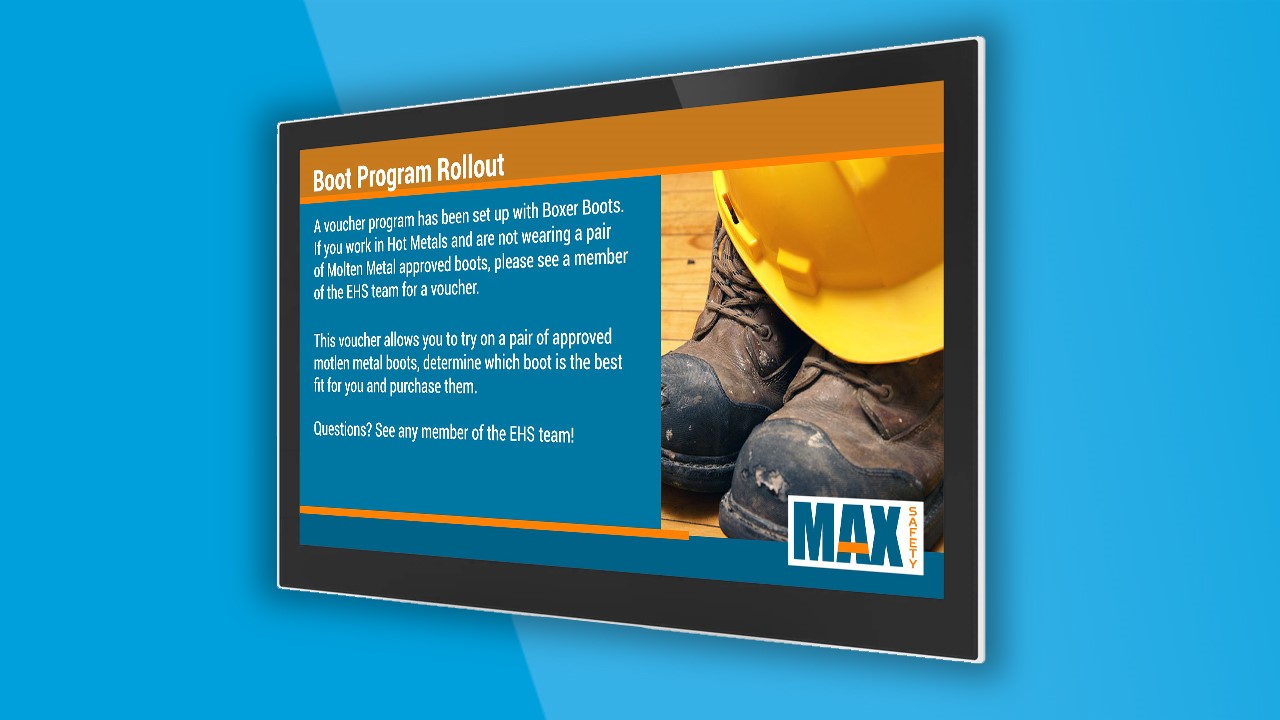 Digital signage is a unique and modern way to unify all your sources of employee safety communication for your workforce. In the manufacturing industry where employees don't work in front of a computer, digital signage is a way to share your goals and keep your team up to date. In companies with multiple locations or staggered shifts, digital screens are a common thread across worksites and schedules.
Why Use Digital Signage in Manufacturing
Visual communication is retained much longer than reading text. John Medina, the best-selling author of Brain Rules, tells us that humans remember pictures far better than words. "Hear a piece of information, and three days later you'll remember 10% of it. Add a picture and you'll remember 65%."
In manufacturing settings, visually communicating safety protocols will reinforce your required safety training. Photos, examples, and how-tos with movement are far more likely to stick in your employees' minds, especially when they are repeated on your digital signage loop. Moreover, digital screens display one message at a time so that your team gets clarity, not confusion.
Don't leave important information parked on a shared drive or your intranet. The advantage of digital signs is that they bring information together from different platforms and different areas of the company. It's like getting the leaders from compliance, operations, training, and human resources all together at once. Digital screens in your workplace are a powerful tool to share information that needs to stay top of mind.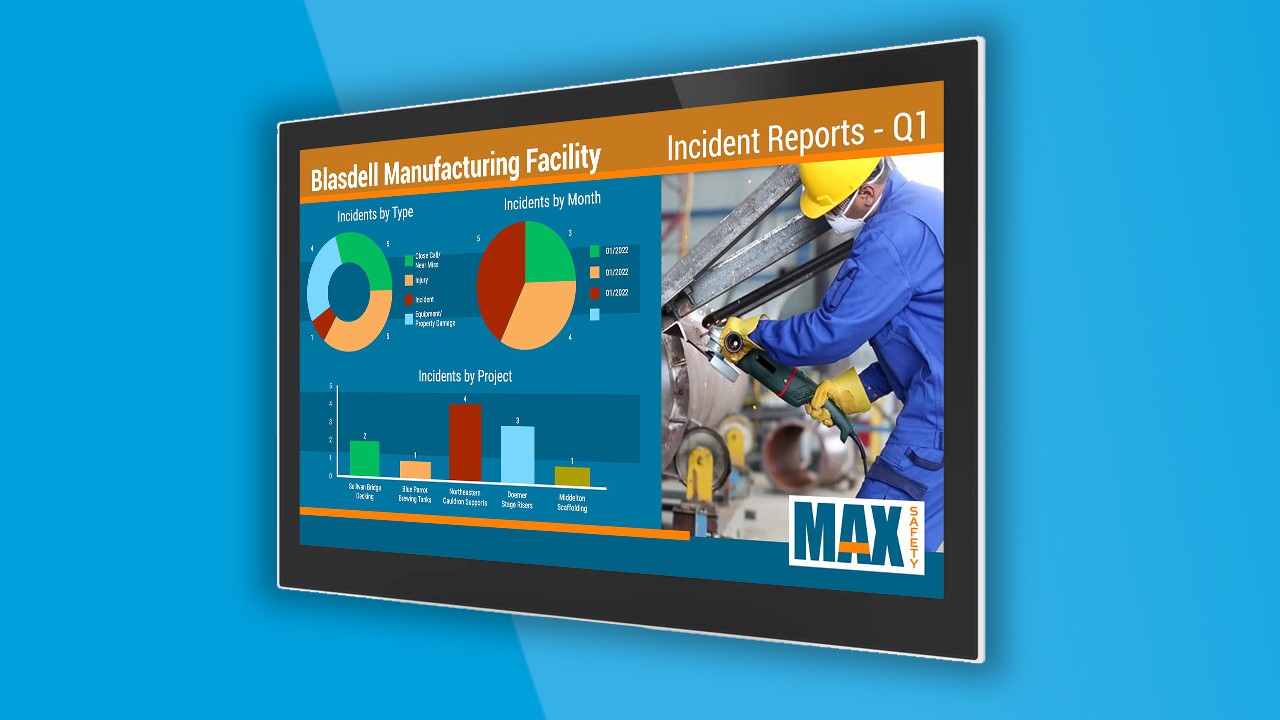 Increase Employee Engagement
Digital signs that include achievements such as incident-free days and recognize safety champions are another way to reinforce good safety practices. Today's safety message may prevent an accident tomorrow.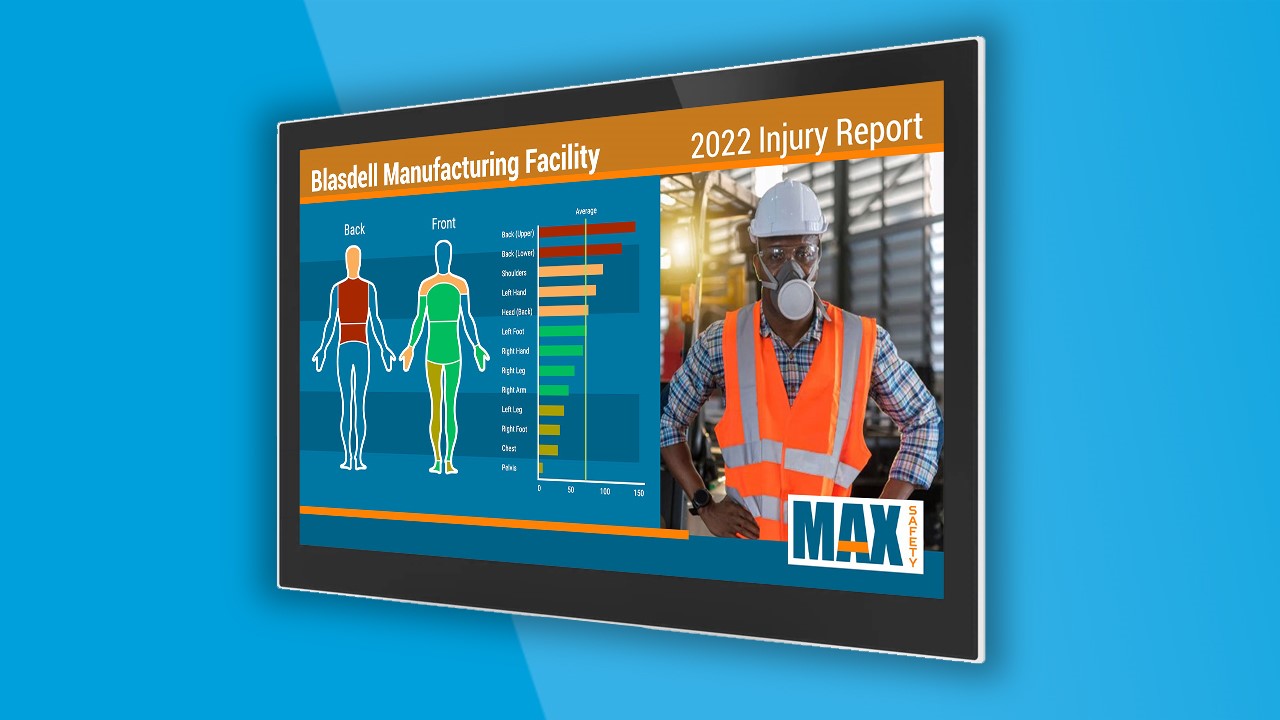 Try shifting your mindset that safety digital signage is really employee digital signage. When you do, you'll see that there's no limit to the type of content you can use to keep employees engaged. What else can you include on your digital screens? Here are a few ideas:
HR News
Vacation time reminders
Health and wellness benefits
New hires
Job postings
Team Building
Employee interest groups
Safety champions
Event photos
Employee profiles
Performance Metrics
KPIs
Messages from leadership
Industry definitions
Productivity benchmarks
Conclusion
Employees are most productive when they feel safe and secure to perform at their best. Digital signage will improve the frequency and reach of your company's safety messages to your employees. It's an important tool that every manufacturing employer should have in their toolbox. As the saying goes, safety doesn't happen by accident.
Ready to learn more? Schedule a meeting or email our manufacturing communications specialist Jon VanderMeer and find out how we've helped manufacturing businesses just like yours improve safety and employee engagement.