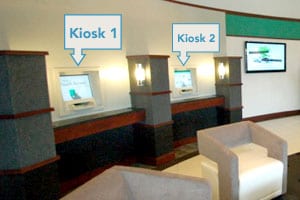 SECU of Linthicum, MD, uses 17 online banking kiosks to enhance the in-branch member experience. The kiosk program is highly integrated into member service representative training, making it a key tool to the member experience. The SECU kiosk offers secure public access to the SECU web site which in turn offers the member tools to transfer funds, pay bills, check balances and browse product information. Branches have 1-3 kiosks depending on branch traffic. Lines have been spotted at the kiosks on busy days when members wait to use the kiosk.
How does SECU drive high levels of kiosk usage while some credit unions wonder why no one uses their kiosks?
"We strive to provide members with exceptional member service.  If a member is in our branch to open accounts or perform transactions that can be done via the kiosks, our staff consistently walks new and existing members over to the kiosk and shows them how to use it.  This consistent practice by our employees of demonstrating the benefits of using kiosks is a win-win situation for members and SECU," says Joseli Wright, Sr. Manager, Retail Banking Strategy for SECU.
Wright continues, "Consistent employee behavior is achieved via recognition and rewards programs. Periodic contests, in addition to quarterly incentives, help remind staff of the importance of member education. Each member needs to be walked to the kiosk for an overview and demonstration of online tools. This is really about providing choice and convenience to our members & consequently migrating transactions to a lower cost platform."
How do you know if members are actually using the kiosks?
Fran Martini, SECU Senior Business Analyst says "Every month we review kiosk usage reports, since effective, timely tracking is critical to the success of any project. Kiosk units provide usage reports by branch, by day or by any number of metrics." Below is a sample report that Fran would use to rank branch performance. SECU uses the online kiosk product managed by The Kiosk & Display Company of Atlanta, Rochester & Seattle.