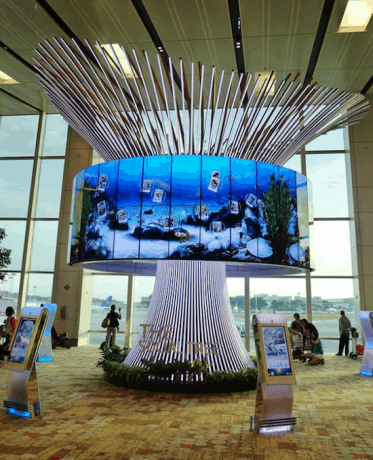 Reported by tnooz.com.
Airport officials in Singapore are leaving no stone unturned when it comes to trying to engage with passengers digitally as they pass through the terminals. Changi Airport Group has planted a nine-metre tall and 11-meter in diameter digital "Social Tree" in the facility. A combination of eight touch-screen photo booths and a giant structure in the middle that constitutes 64 huge 42″ HD TVs form the Social Tree. Travelers can upload their photos and videos (via a secure log-in mechanism) onto the photo booths which are then displayed in the giant 360 degree screen in the center. The giant screen displays various animated backgrounds including a mystical forest, deep sea environment, Marina Bay skyline and the heartlands of Singapore. Travelers can also post photos and videos taken at the booths on their social networking profiles.
The Social Tree is placed in Terminal 1, Central Piazza, right after immigration counters and set against the backdrop of aircraft bays. Changi Airport says it will be preserving any media shared by passengers for decades (perhaps even exceeding 100 years), allowing travelers to be a part of the airport's history. Yeo Kia Thye, Senior VP for Airport Operations, Changi Airport Group (CAG), says: "We live in a world where digital communities form part of our everyday life. We hope to see The Social Tree grow into a digital community at Changi Airport, offering a connection over time for our passengers who may pass through Changi many times in their lives. It also provides a social element for our more than 52 million passengers each year to reach out to family and friends." The Social Tree will apparently be further enhanced in the coming months to deliver more interactive functions.